Just like other avenues of learning, there are many ways you can approach upskilling
If you're reading this post, chances are you know how beneficial upskilling can be to your team's results.
But how exactly do you go about upskilling your team?
Just like other avenues of learning, there are many ways you can approach upskilling. For instance, you will need to consider factors such as:
Upskilling budget
Availability of trainers
Proximity of trainers
Your business needs
Your team needs
Your team members' preferences
Skills to be learned
There are even more factors that may come into consideration once you decide to start upskilling your team.
Fortunately, there are many ways to go about it to get great results. In this blog post, we'll be looking at nine effective ways to start upskilling your team today.
1. Use in-house experts
The people to consider first when trying to upskill are your employees who are excellent at some particular skills. In some cases, the skill you want your team members to learn may just be someone's day job.
After making a list of the skills you want your employees to learn, you should consider employees who can train others. This has many potential advantages for your team.
First of all, the upskilling process becomes easier as the trainer is readily available to train their colleagues. Added to that, trainers can adapt their training to their trainees as they understand their personality better due to their familiarity.
2. Use external experts
In situations where none of your employees has expertise in a skill you want your team to learn (or the time needed to upskill your team), another option is to bring in an expert to train your workers. In addition to this, an external expert can install necessary tools at your workplace that will help employees put their new skills into practice.
You can also decide, when necessary, to use training tools if the expert is far away from your team. This is applicable if your expert is on the other side of the country or even on another continent.
For example, a tool like GoToTraining allows external experts to train your employees at a low cost.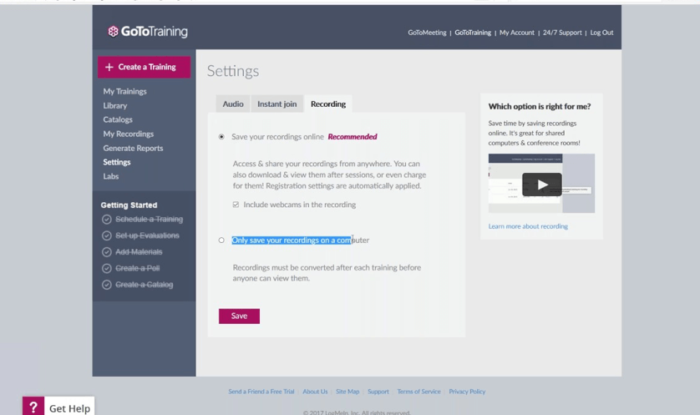 3. Sponsor employees to courses and seminars
When an expert organizes a course or seminar about a skill you want your team members to learn, it's an opportunity to upskill your employees. This is often a cheaper option than bringing in experts to your company.
In this case, you can send employees who need to learn new skills, to the seminar or course.
Employees who attend the course can, in turn, train their colleagues to get the necessary knowledge.
4. Utilize mentoring
For new employees especially, this is an effective upskilling method. Even though a new employee will have the basic knowledge about their job, there will still be a knowledge gap in terms of experience and how you apply that knowledge in your workplace. Or, it might be that you employed someone who showed a lot of promise but who didn't have all the skills needed for that particular job role.
Therefore, most new members of your team need this form of upskilling. Rather than leave a new employee to find their way, a senior team member can be a mentor to guide them through their onboarding process in your team.
In this case, training goes on during the job and the cost is low compared to other ways of upskilling your team. Through mentoring, you can also improve team bonding with a new member.
According to a study by Intelligence group, 79% of millennials would want their boss to be a mentor while 88% prefer a collaborative culture than a competitive culture. Considering that millennials will be the largest generation by the end of this decade, mentoring could help you keep more workers engaged and productive.
5. Use lunchtime lectures
Lunchtime lectures are informal but they can be a powerful way to upskill your team members. During a lunchtime lecture, an expert will make a presentation about a skill that other employees can learn.
This is commonly organized monthly to make it effective. Depending on your preferences, the expert could be internal or external. During this lecture, your expert will talk about this skill and how it affects their work and the company.
After the lecture, employees can ask questions and this can be an interactive session as every employee will learn how to apply the knowledge to their work.
6. Create guidelines for reference during and after the training
Our brains are powerful organs. But they can also easily forget things during daily activities. When you upskill a team member today, you want them to apply this knowledge for a long period of time.
Having reference material can boost the learning process. It eliminates mistakes that can happen through misinterpretation of the knowledge acquired. Alternatively, these guidelines can serve as training for employees who miss the original training.
With a tool like Bloomfire, you can create a library of guidelines for your training over many years. This way, team members can still go through their past training to learn more.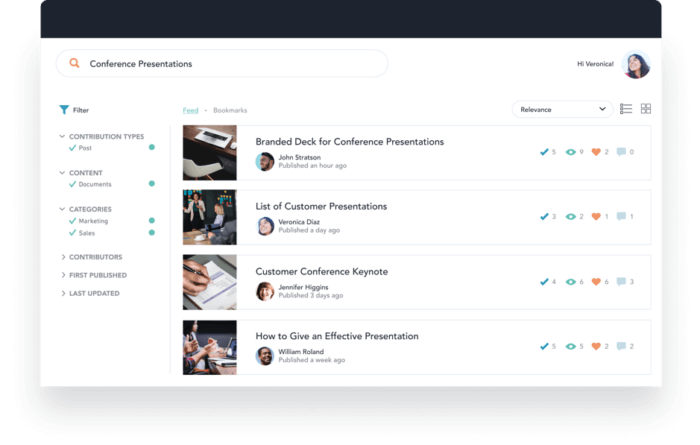 7. Encourage microlearning
Due to time constraints or other constraints, it might be impossible to allocate a huge chunk of time for upskilling your employees. A way to encourage upskilling is through microlearning.
With microlearning, employees can learn new skills at their own pace. This means your employees can take a short form of training whenever they're free at work until they complete the training.
A tool like Grovo allows trainers to deliver training in short bits and trainees can acquire knowledge whenever their work permits.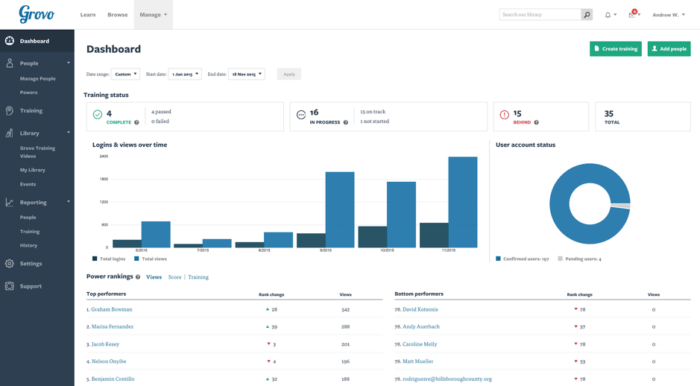 8. Gamify the learning experience by making it interactive
Some lessons are best learned through experience. But without experience in the upskilling process, the next best is to simulate a real-life situation.
How will your team members apply their lessons to their jobs? The upskilling process should add simulations like games where they can answer questions or apply their new knowledge in solving problems.
In some cases, training can be done in real-life situations where employees are trained while on the job. When this is impossible, the gamification of the process will make it more effective.
The concept of gamification involves all the human senses and helps people to acquire knowledge faster and more effectively than just reading or watching.
9. Use a personalized training tool
If you consider it, you'll observe that every team member has various needs when it comes to upskilling. Thus, general training might be insufficient for improving all employees.
To ensure that every worker can benefit from upskilling, you need a personalized training tool that will deliver training to them according to their needs and goals. Added to this, an employee will get courses delivered to them based on their learning gap.
Another point to note during upskilling is that employees prefer different content formats while learning. A personalized training tool like Docebo learning management system will present training to each employee in their favourite format (podcasts, text, video, quizzes, etc.)
Conclusion
If you want to upskill your team, there are many effective options available. And to get the best out of your upskilling efforts and investment, you need to upskill the right way.
Of course, you can combine one or more of these ways depending on your team needs. As stated earlier, you need to consider the factors that affect how you go about upskilling your team members.
By using the right experts, tools, and methods, you can improve your team's productivity and maximize the ROI on your investments.
Join To Our Newsletter
You are welcome