To prevent further revenue drop, linear television will have to change advertising practices completely
For many years, advertising budgets were gravitating towards the Internet because only this medium could offer media buyers precise targeting and efficiency metrics for campaign analysis. The experts predict that by the end of 2018, the Internet advertising budgets will outweigh linear TV by a whopping $40 billion.
A couple of years ago, the ad market was close to the point of no return and the industry players predicted nothing but a slow demise of TV advertising. In order to prevent further revenue drop, linear television will have to change advertising practices completely.
Let's find out how the market adapts to the new programmatic-driven addressable TV reality.
What is addressable TV and how it's different?
Technically, all devices that support TV broadcasting can be attributed to the connected TV, whether they operate on Apple TV, Roku,  PlayStation console, or a Smart TV platform.
Every connection point is assigned to a specific address, according to which individualized advertising is served while the same show is being broadcasted for thousands of users. This way, every household may watch individualized messages that match their tastes and lifestyle.
The targeting works the same way it does on the web with programmatic advertising. The data management platforms (DMP) aggregates the user information (the number of family members, their age, income level, etc.) and sells it to advertisers. Sometimes, such information is purchased from TV providers like Time Warner or Verizon. This kind of data ensures targeting with high accuracy on the programmatic demand-side platform.
Delivering the ads via addressable TV platforms enables advertisers to reach a smaller number of potential consumers but achieves a much better return on investment, as such audiences are more likely to convert. Not only do companies win but the viewers will also receive fewer ads, as well as only seeing ads that appeal and are relevant to them.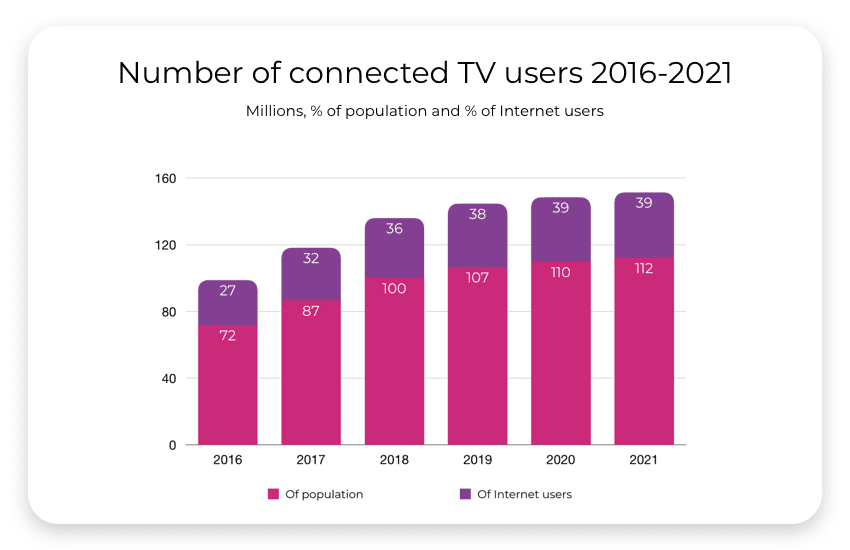 Massive linear TV transformations are coming
These days, advertising is entering the new era of accurate targeting on television. Will the rapid growth of Smart TV purchasing signify the end of TV advertising in the form we used to know? The answer to this question is yes and very soon. Despite the obvious advantages of connected TV, this technology is only gaining in popularity.
One day Smart TV will be largely preferred over the linear one, with when this will happen being only a matter of time. According to the study, the number of users who watched connected TV in 2016 grew by 58% compared to previous years. In 2021, it is estimated that the number of viewers will climb by around 21%.
The TV advertising market based on programmatic advertising is relatively unexplored; but in the near future, it is expected to go wild. The way people will consume content and the way TV ads will be broadcasted will change the normal TV ad practices dramatically.
Previously, advertisers had to rely on the ratings of a show and, using this, determine the best time of day that was most suitable for arranging the mass ad broadcasting. Programmatic advertising made it possible to show specific commercials in specific households when it was best for specific types of viewer.
Addressable TV advertising format will continue being one of the fastest growing this year due to the fact that people are watching videos more often using both mobile devices and Smart TVs.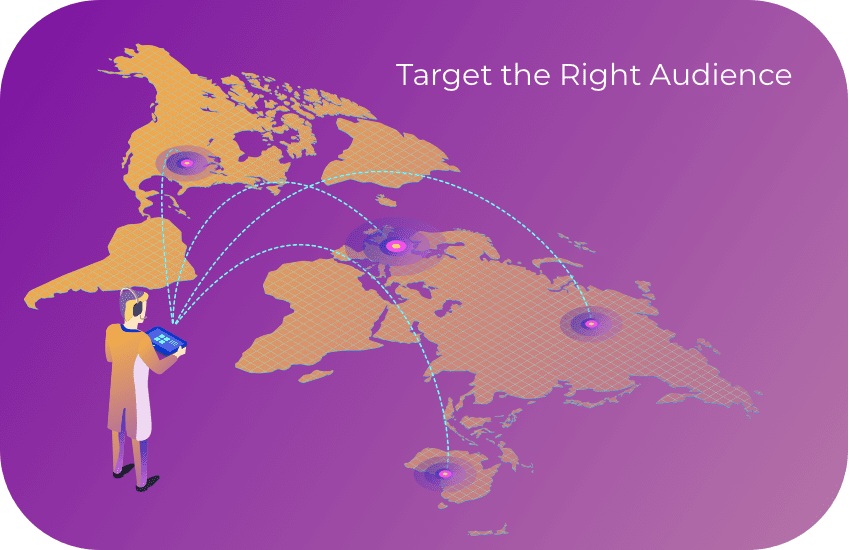 The market learns how to leverage the benefits
Millward Brown Cross Media research predicts a serious redistribution of advertising budgets from TV to online video streaming in the US, China, and Japan because it is cost-effective. Connected TV is the channel that allows you to expand the reach of your audience, especially when it comes to demographics that don't normally watch TV. On top of this, the cost per view on Connected TV is several times lower as people are prone to watch Smart TVs in groups.
Since the broadcasting is enabled on any type of device, advertisers will be able use retargeting campaigns to ensure that their targeted audience is still reached. For instance, if the ad doesn't trigger a reaction on a Smart TV device it can always remind the watcher about the product on mobile or vice versa.
When it comes to the average video ad completion rate, 70-80% is the best rate the brands can hope for. On addressable television, this bar exceeds 99%. Suiting the creative format according to the platform of broadcasting is a common practice among big brands like P&G, Honda, and Coke who customize their content to the platforms and achieve outstanding performance results.
The creative and its ability to engage remains to be the main competitive advantage of the company, and on addressable TV the requirements for it will grow. The content adapted to the different consumption channels making people much more susceptible to it. Unfortunately, this is what brands typically forget about: TV advertising demands much better resolution and formats that do not interfere with viewing.
The second thing that should be taken into account is in technological differences. For instance, Apple TV and Roku deliver different user experiences, so it's worth thinking beforehand about how the ad will be integrated. Like any other programmatic platform, the addressable TV platform will also demand to define your key markets (geo and vertical) before launching the targeted campaign.
The last word
Today, as programmatic advertising continues to make its way on traditional television, more and more brands are venturing into the new and highly promising Addressable TV grounds.
Those brands that will not be able to adapt to the new realities will definitely lose their media budgets and excellent chances to expand their audience. On the contrary, advertisers who accept the new creative and technical challenges will have a real opportunity to maximize ROI, differentiate themselves from competitors and promote their brands, as well as reach a broader audience. 
Karen Karalash
is a leading Head of Publisher Partnerships at
SmartyAds LLP,
the ad tech full-stack global software developer. She has been working at the company for over 6+ years. Through this time Karen gained strong professional experience in the various fields of digital marketing, online & programmatic advertising, and strategic planning. Nowadays Karen wields all essential knowledge about current ad tech visions, the factors that determine the advertising market and she is glad to share her insights with other digital advertising enthusiasts.