Positive and negative PR campaigns can affect brand equity and identity – learn how to apply positive PR across touchpoints in the RACE customer lifecycle
It's a general marketing myth that without PR (positive or negative) consumers won't know who you are and how you can help – wrong. Although effective PR can be the make or break for smaller companies who want to get their name, vision and message out to the public, larger brands have build a brand identity that keeps them noticed regardless of ill-thought out publicity stunts and, sometimes, even the products they offer.
Brand equity refers to the customer's perception of a brand name or company rather than the multitude of products or services they provide. Brands that successfully create a strong online and offline brand equity includes: Apple, Google, Microsoft, Amazon, Netflix etc. You can instantly identify them, even if you don't know everything they offer.
However, solely relying on PR is a rookie business mistake and poor brand storytelling practice – PR needs to be integrated with other offline and online marketing tactics.
Other marketing channels, offline or online, can help brand visibility and reach. But, how does PR efficiently integrate into a wider product launch campaign?
Using SEM to make sure your brand message achieves desired reach to target customers
Offline advertising (TV, print, events, and sponsorship) that follows the same branding and design as online identity
Partnerships with affliates and influencers who share the vision / common interest in your product to become a brand ambassador
Creating a community for customers/members that put the customers first and portrays an inclusive brand community
Sharing positive values with customers; not only giving them what they need and want but showing them you care about them and what they care about too.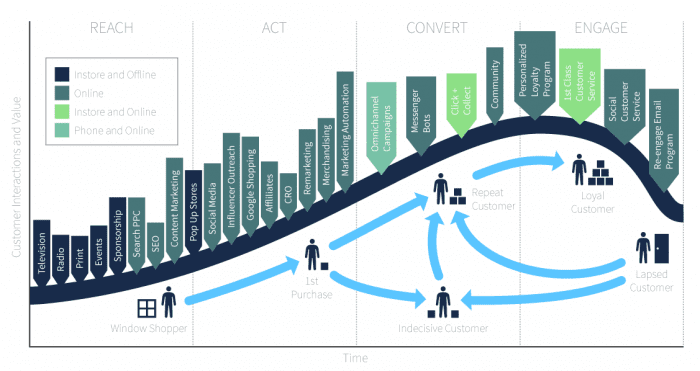 PR should be used in conjunction with other channels to optimize customer touchpoints across the RACE customer lifecycle model, created by Smart Insights. PR is essentially brand image and brand image is seen across all online marketing channels and offline tactics.
We'll take an in-depth look at some of the best, and worst, PR stunts from brands, how bad PR can affect your companies reputation and how negative brand identity with poor brand storytelling can drive customers away – regardless of how brands try and 'fix' the problem they've caused. We'll also take a look at how you can integrate a positive PR image into other marketing channels to create a brand identity that converts target audiences.
Traditional marketing (print) and guerrilla marketing
We'll start with the traditional marketing tactics as these are still relevant for certain PR communications.
Having the right message with the right attitude is great, but without strategy and planning, businesses will find it hard to reach their audience. Traditional press releases and publicity stunts like some guerrilla marketing tactics can only get businesses so far. Guerrilla marketing is great for smaller businesses that have little to no budget for marketing, but don't always provide the highest volume of exposure.
Which is why digital marketing is preferred by many brands wanting global exposure as the potential reach is far higher. They can include:
Street marketing (display advertising campaigns such as shopping trolly displays, flyers, public events etc.)
Wild posting
However, some guerilla marketing tactics can be great for SMEs and local businesses, but, without correct design branding, and the right message, it will be hard to create a strong brand identity which is memorable. Potential customers need to see your message and instantly know who it is, how you can help and where they can buy your product. This can be a brick and mortar shop, or an ecommerce store. The key is having a distinct look which can be distinguished between you and your competitor but is aligned and consistent with other marketing channel designs.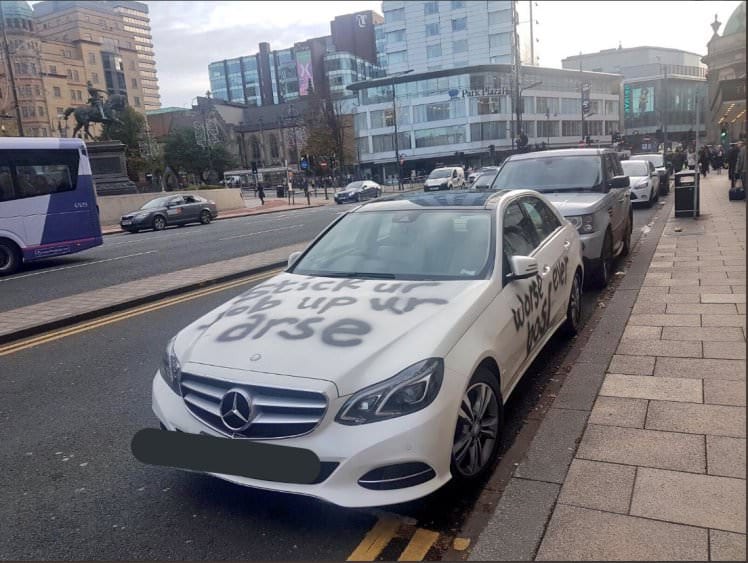 Take for instance this recent publicity stunt in Leeds, UK.
Excitement sparked when a mysterious Mercedes was spotted in several locations around the city with 'stick ur job up ur arse' and 'worse boss ever' graffiti scrawled all over it. Initially, it looks like a disgruntled employee, but it was later found out it was a publicity stunt from a betting shop.
Having looked at the car and the graffiti on it, would you know who was behind it? The obvious choice would be the car manufacturer, Mercedes, but they later released a statement saying:
"[they] had seen the photos, but 'it's nothing to do with us'.
This is a very bad example of a PR stunt. There is no branding, colours, design or message to associate it with a brand. Passers-by are left scratching their head in wonder, taking a photograph, and carrying on with their day forgetting about the car within days if not hours.
This is poor integration of brand identity and a publicity stunt that doesn't reach audiences, nor sends a message of product, service or brand awareness. Thus no positive brand equity is formed.
Search engine strategy to reach target audience (SEO and PPC)
Now we'll look at digital for audience reach. Good PR which sends the right message needs to be aligned with good search engine marketing. If your target audience has seen your offline advertising, or PR / partnerships on other sites, it is important that when they search for you they not only find you, but they recognize you and your message. Afterall, you don't want a potential customer coming to your ecommerce site and wondering if its the right place. This confusion and self-doubt could mean the difference between a purchase or a very high bounce rate.
Optimize your search engine SEO titles and meta descriptions to show your audience who you are and that you are, in fact, the people they were looking for.
Apple dominate Google image search for the word 'Apple'. Their logo and online identity has surpassed the image search for a physical fruit apple. This brand identity online keeps users knowing who they are and what they look like.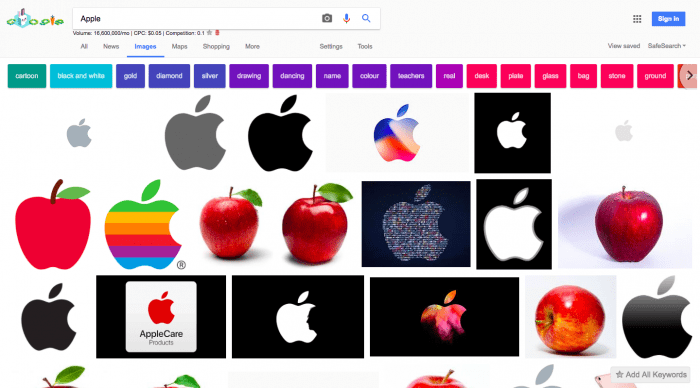 In line with their branding and logo design, their website leaves no question as to who they are. Their logo is sleek and simplistic and so is their website design, which is mirrored in all the campaigns and PR events.
Pop-up stores and events
This type of PR differs from B2B and B2C. Whereas a B2C ecommerce store/brick and motar may pop up at a local event, sports event, etc. B2B companies will be targeting their event pop-ups at corporate events and conferences etc. to gain leads.
But for the first instance, let's take a look at when Smart Insights went to TFM with their pop-up stall for B2B audiences.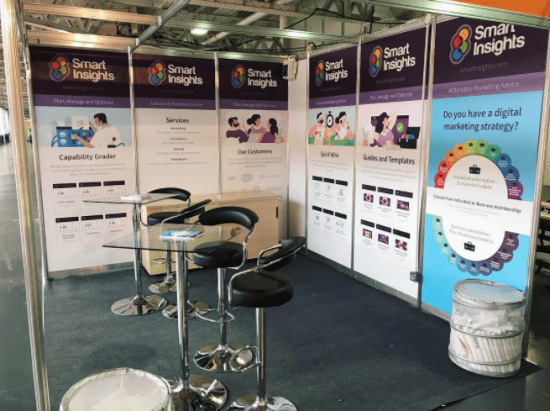 As with any pop-up stores/events, it's important that the image you portray and the message you send is aligned with other marketing channels.
Yes, you want to capture passers-by's eyes and further engage with them, but if you need to create new visuals and design etc. to do that then you probably need to also think about redesigning your site. If it doesn't capture people's eyes as they walk past, it won't capture people's attention for the first 8 seconds of their attention span when looking at your site online.
We made sure our pop-up designs matched that of our entire site and brand identity. The images used can also be found on our site. Together, it forms a cohesive brand identity that cannot be missed or misinterpreted for another brand.
The message we send reflects that of all our other marketing campaigns too, with positive public relations (face-to-face and online) as well as a brand identity that sets us apart, we can never give the wrong message.
Social Media PR
Wendy's springs to mind when you think of brands on social media that stretch the boundaries of customer services and relations. However, Wendy's is a perfect example of how social media, in line with brand image and personality, lead to a viral tweets and global exposure.
Other brands are starting to adopt a 'no-nonsense' approach to their Facebook updates and their daily tweets. This is interesting as a recent study by Sprout Social found that brand personality on social media affects buyer decisions. Consumers preferred a more authentic and honest brand personality (86%) over snarky comments or political content (33%)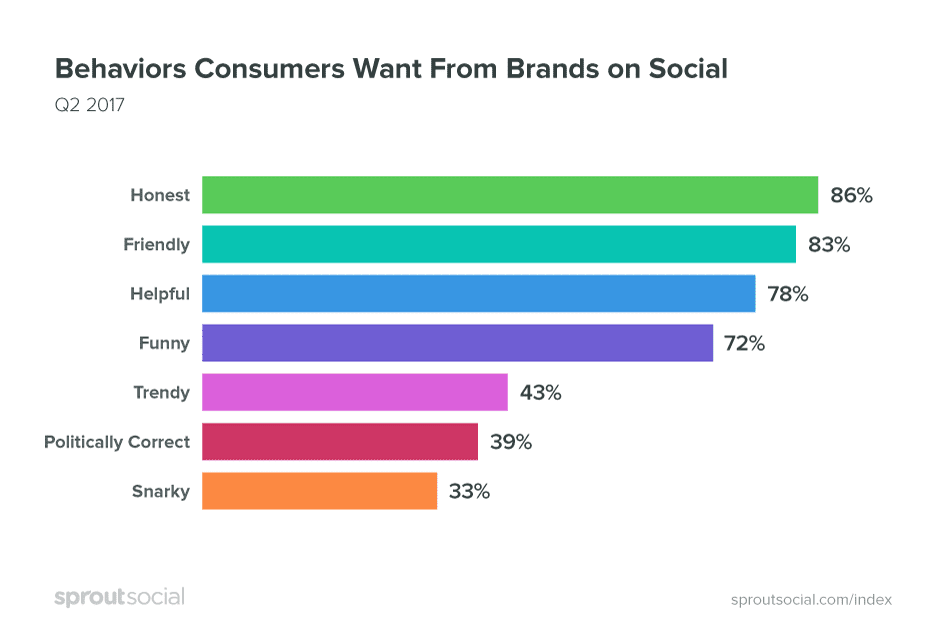 One of my favourite adverts, which went viral a fews years ago, is by the Dollar Shave Club. Now, this is an American brand (soon to be coming to the UK) and I live in the UK, they target the male audience, and I am a woman. Yet, I saw their advert and subsequently follow them on social media. Am I a 1st purchase or even a target customer? No. But that's not my point. The point is that I know about them and they weren't even targeting me, so think about the many males in the US they did target and are now recognizable with their online brand image…
They created a unique customer experience, and by being part of their monthly subscription you were in on the 'joke' everyday annoyances they poke fun at in their advert. They created an exclusive 'community' for customers.
Let's take a look:
Their PR is whimsical, raw and honest. Their approach on social media also reflects this – they stay true to brand image and by doing so they create an online brand identity which is easily recognizable. Their tweets don't always promote their products and, at times, don't seem to be related to their brand at all, but it's fun and engaging which keeps their followers in the high numbers. It's about seeing the people and the faces behind the brand and being part of the community.
Seeing where you're shaving comes in handy – especially when holding a sharp object to your face – or other parts of your body. pic.twitter.com/U3rtEQsiTP

— Dollar Shave Club (@DollarShaveClub) November 30, 2017
Finding the right influencer
Many social media agencies and consultants have said that 2018 will see a huge rise in the companies that invest in influencer marketing to promote or become advocates of their brand. Many years ago mega-celebrity influencers promoting beauty products on commercials, but now influencer marketing has created a storm on social media.
However, influencer marketing is not for every business and should be decided if it fits with brand image and equity.
Common influencer marketing mistakes that lead to disaster include:
Choosing an influencer just because they have a large following
Choosing influencers that don't use the product or service and don't believe in the brand message
Are big celebrities but aren't likable to the public and alienate your customers
An influencer that is prone to bad press and conflict with media
In a previous article on our blog, we discuss 4 influencer marketing campaigns that went wrong. And we see this with many brands who try and tap into the influencer market.
Take a look at these influencer posts that do not align with brand equity, or show they are positive brand advocates.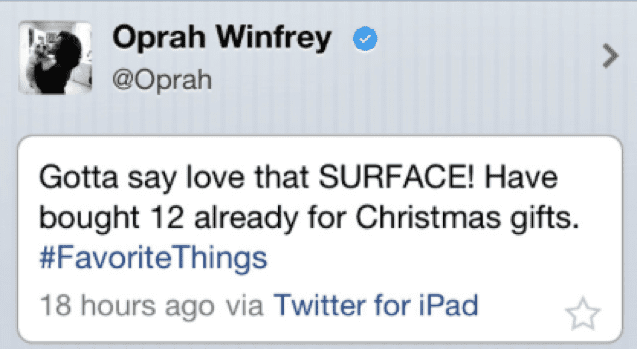 UK reality TV star, Jessica Shears, soon came off air and started promoted different products in instagram posts and was quick to label herself an 'influencer' on her Instagram bio.

Those who label themselves as influencers are less likely to gain product engagement because users are aware they are selling products for companies and are not true advocates or believers of the brand/product.
Having an influencer who promotes multiple company products is not going to show the true value of your brand identity and eventually, your post will get lost in a stream of other posts promoting other products and competitors.
Simple steps to creating a successful influencer strategy:
Think about your brand message and what this says to your audience.
Are there any social media users who already, organically, post/review your products or services and can become a brand advocate?
Choose someone who shares your companies values, vision and message to the public. (Those in NFP or charitable sector may want to choose someone who is known for charity based work)
Size of followers isn't always key – someone will a lower following than people with a 100k-1 million follower base can have more loyal followers who are likely to listen to them
Having brand advocates gives an authentic feel – let them write their own posts, in their own words instead of scripted captions – users will know if their opinion is authentic or not.
Have you thought about user-generated content?
UGC is the best influencer campaign you can get. What's better than people to prove the quality of your brand, service, and products than past and current customers?
One brand who do this well is Anastasia Beverley Hills, who like and retweet customer who share the products they've bought and how they've applied their costmetics. Not only does this create great content that shares make-up tips, but it also shows ordinary people buying, wearing and loving their products.
Aurora ✨ that packaging though 😍 @ABHcosmetics @norvina1 pic.twitter.com/zkZhMsoqFn

— Sarah (@sarahiemel) December 11, 2017
 
By liking and retweeting tweets sent by customers, it shows up on their feed and user's home feed. I see all the time 'real people' (i.e. not celebrities) sharing how wonderful ABH cosmetics are, and the more people see this on their feed the more likely they are to purchase their own.
Overall, this builds a friendly, customer-centric online brand image where customers can share their makeup looks and tips and feel part of a larger community of customers.
Whether you choose a full influencer marketing strategy or UGC to help promote your brand message on social media, make sure it builds a positive brand equity that you want to be known for and promotes the values and vision of your company.
When a brand goes viral, for all the wrong reasons!
Let's take for instance United Airlines. Not too long ago their brand was on every news outlet in Western Countries for a video that went viral when a member of their airplane security staff forcibly removed a passenger off an overbooked airplane.
---
(I have not shown the video out of respect as it has scenes that many readers may find disturbing). If you wish to see the video in question, you can view it here on Youtube.
---

This is a time when United Airlines needed to get a Crisis Communications strategy together, quickly, which:
Apologised for those involved and those who witnessed the incident
Promoted United Airlines the way they wanted to be viewed and represented
Offered a brand image / identity that could be taken forward in the future
What happened on the United Airlines airplane led to an uproar and fully exploded across social media. However, where this was an ample situation for United Airlines CEO, David Deo, to empathize with his passenger's unnecessary violent removal, to show staff, customers and the wider global population that his brand had consumer important values at the forefront of their message, his statement afterward was unapologetic and praised staff for 'following protocol'.
As Forbes headlined, United Airlines 'became the most hated airline in one day'.
Bad PR that goes viral is absolutely detrimental to a brands image and identity. Sometimes, one bad video, complaint, viral video on social media or badly thought out campaign cannot be forgotten, neither can it be forgiven.
Brand equity vs brand awareness
Global businesses like Apple, Google, Amazon and other online SaaS companies such as Netflix have distinct branding and advertising, which, arguably, make them stand out from the crowd, but do they?
In a recent study, it was found that only 85% of respondents could correctly identify Amazon without any logo or give away reference, and only 78% could identify Google. However, those who identified wrong simply didn't know who it was instead of misinterpreting it from another brand or competitor.
So, online identity is important for customers to know that they've landed on the right site, but brand equity is not solely related to brand awareness.
Conclusion
When building brand equity, think about the consumer and the audience you're trying to target. Brand awareness is great, it means getting yourself known and in the middle of important conversations, but customer attitude is arguably more important.
Make your brand known, but also someone they want to buy from/be a member of. If your values don't align with your target audience, you're going to find it hard to convert them into a 1st purchase customer and even maybe impossible to keep them as a repeat/loyal customer.
Join To Our Newsletter
You are welcome