Five months after Google announced the rolling out of what is commonly known as the 'EAT Update', just what have we learned about Google's interpretations of expertise, authority and trustworthiness? The answers lie in those brands that have thrived
Since Google announced the 'broad update' in August, leading brands have seen some significant and sometimes erratic changes in their organic search visibility. Some brands saw their visibility almost wiped out entirely, only to return to normal shortly afterward. Weeks of volatility followed as Google appeared to tweak the dials on the updated algorithm.
This week we released a broad core algorithm update, as we do several times per year. Our guidance about such updates remains the same as in March, as we covered here: https://t.co/uPlEdSLHoX

— Google SearchLiaison (@searchliaison) August 1, 2018
Five months on and, whilst the volatility may have calmed down somewhat, there are still major brands that are struggling to understand and respond to the changes in both Google's broad update and the updated Search Quality Evaluator guidelines that emerged at around the same time.
For those who've had both the time and inclination to review the 56,106 words, spread across 164 pages, the updated guidelines explain how Google's evaluation teams judge any given page. For those who haven't read the guidelines, Stickyeyes' Google EAT Survival Guide provides a more condensed analysis.
The guidance explains how Google's search quality teams should determine whether a search result contains expert content, whether it should be considered as an authority on the respective subject matter, and whether a search user would be able to trust that particular brand and page.
Of course, theory and practice are often two different things and, particularly when the aftermath of this particular update was so volatile, applying the theory of the guidelines to the practicalities of modern e-commerce is easier said than done. When so many brands slumped only to recover very soon afterward and when others soared only to come crashing back down, knowing which changes to make and where to respond to the new guidance became something of a minefield.
But by looking at the brands that appear to have gained the most from the update, we can at least see confirmation that the search results are indeed correlating with the advice that is contained within those 164 pages of guidance.
The power of an effective content hierarchy
Content types and hierarchy isn't a new concept, but it is one that was brought to the fore following the updated search quality guidelines (section 2.4 if you're so inclined) and the 'EAT update'.
In particular, the guidelines put an emphasis on the importance of main content and supplementary content. The main content should be clear, substantial enough to convey the necessary information and, depending on the niche, created by somebody with expertise and credibility in that particular area.
Supplementary content, on the other hand, should add value to the user without distracting from that main content.
One brand that appears to have this balance right is the retailer Wilko, which has seen its visibility grow by 50.4% since before the EAT update, according to Searchmetrics.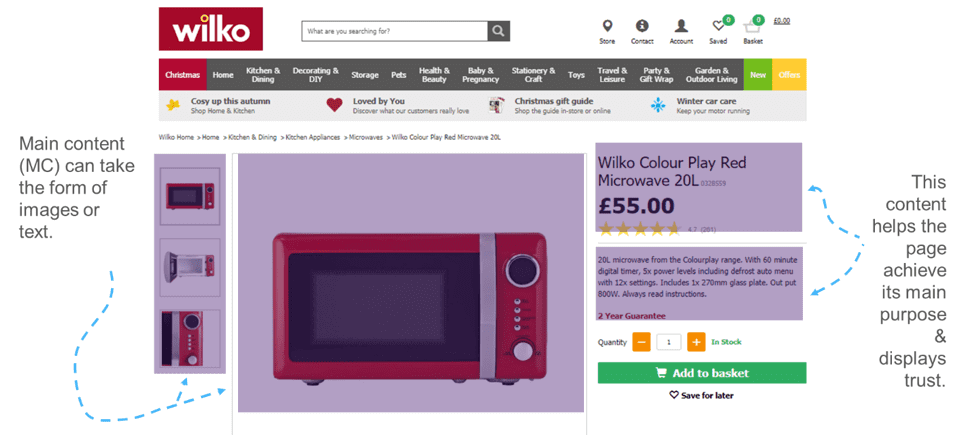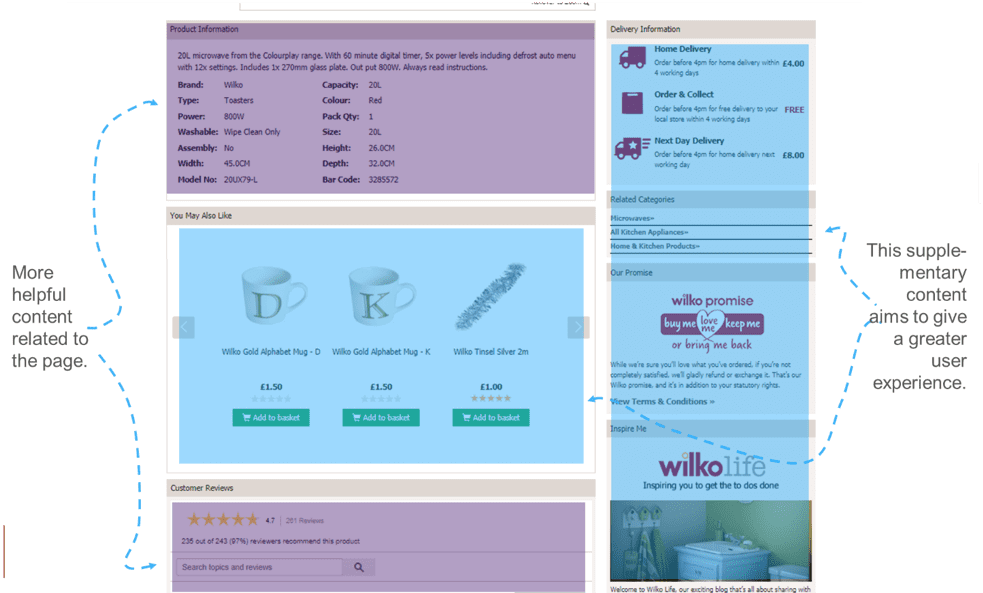 The main content delivers everything that the consumer would come to expect from a page of this type, and it does this very clearly and efficiently. The description of the product is clear, the price displayed prominently and the specifications provided in a standardized format to make it easy for the user to compare products. We also have clear trust signals from the user-generated reviews.
Where the supplementary content supports this page most clearly is on the right-hand side, where there is content that clearly demonstrates that the brand is one to be trusted and respected.
Firstly, we have clear delivery costs displayed prominently. Whilst many retailers only reveal these costs deep into the checkout process or hide them within the help section, Wilko displays these clearly to demonstrate to the consumer that there are no hidden charges or nasty surprises lurking further into the customer journey. This is a big tick in the 'trustworthiness' column.
Below this, we have the brand's customer promise – a clear and easy-to-understand returns policy that, once again, provides a clear trust signal.
Getting to the point
As the Google guidelines state, clarity, expertise, trust and authority are clear signals of a high-quality search result and this is of particular importance in high consideration, high ticket value purchases.
Another brand that we have noticed as one of the winners from the EAT update is Laptops Direct, which has almost doubled its organic search visibility since the EAT update (Searchmetrics).

This is where we start to see striking similarities between their approach to content, and that of brands such as Wilko and other brands that have flourished in the post-EAT age.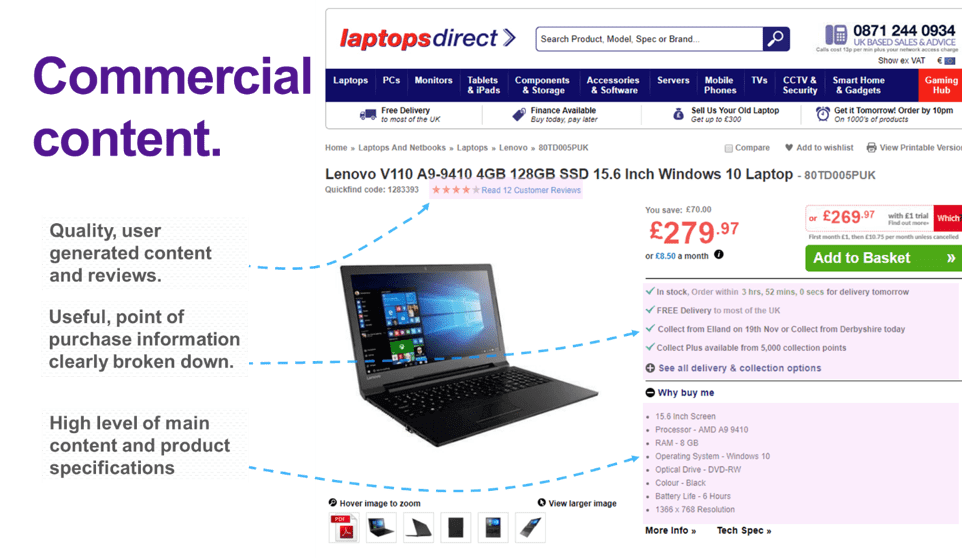 We have clear, easy-to-understand and consumer-centric content. The important details about the product are prominent on the main page, clear and make for easy consumer comparison. Where other brands have led with verbose and excessive levels of main content (perhaps a reflection of prevailing advice from many SEO and SEM agencies in the years prior to EAT). Lengthier content is not, in itself, a bad thing, but it needs to be in the right places as part of that customer journey.
Equally, we have clarity on key points that may affect the customer's decision to purchase, such as stock levels, delivery options and costs. These facts aren't hidden in the checkout process but displayed clearly and prominently. Trust is demonstrated once again with prominent customer reviews.
Four qualities of EAT-friendly content
Of course, two examples of two retailers does not tell the full story of the EAT update and how you can survive through it, but the bigger picture that both the winners and losers demonstrates when it comes to content is that Google has perhaps altered the optics on what 'good' content actually is. It isn't just about well-written content, but about content that demonstrates four key qualities; accuracy, thoroughness, honesty and humility.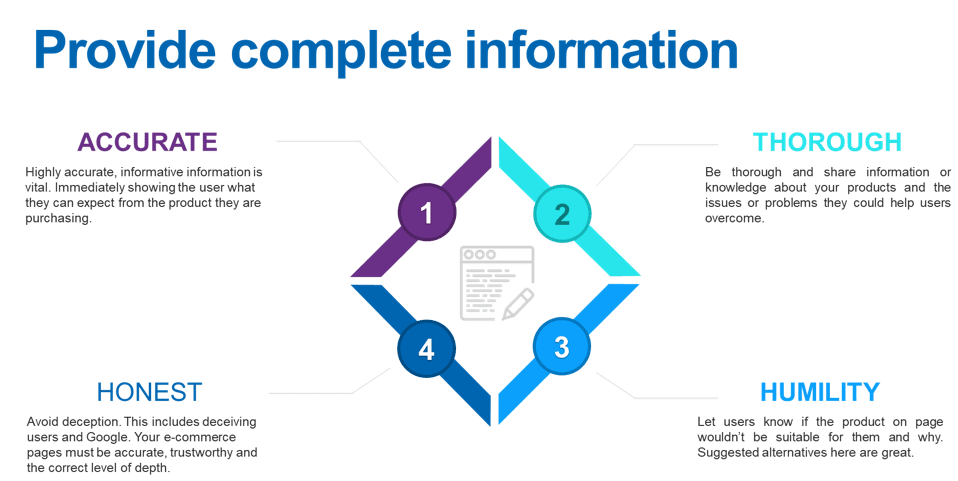 We expect content to be accurate, well-researched and impartial. We expect it to cover everything that we might expect to be told and we expect it to do so honestly. We also expect, or perhaps hope, that companies are helping us to find the right product – so many brands have slogans and mission statements about "helping" the customer, and this sense of corporate humility is now important to consumers.
If we think about how we transact offline, this is how we expect companies to behave. Most of us can spot salespeople and practices that don't demonstrate those qualities, and the same principle applies to the "silent salesperson" that is an online product page. Elaborate brags, hidden charges, un-informed sales spiel and misleading information turn-off consumers online in the same way that they make them leave the store or showroom with a poorer perception of that company.
Google's EAT update should never have been a huge sea-change in the search industry. It should simply have been about reinforcing what brands already know about dealing with consumers. The poor experiences that turned customers away in the offline world also turn customers away in the online world. Google's EAT update is nothing more than a reflection of that customer expectation.
Michael Hewitt is the content marketing manager at Stickyeyes.