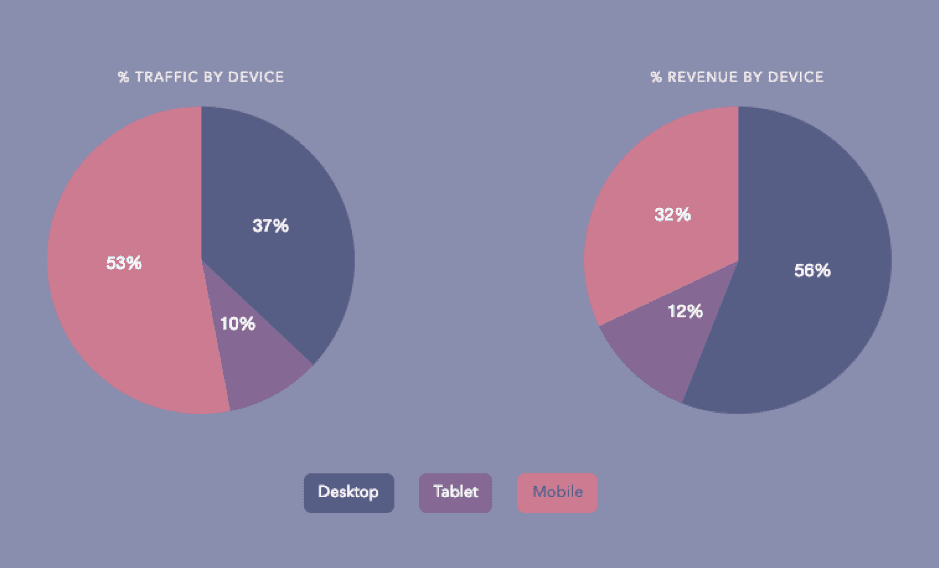 More people browse on mobile but buy via desktop
Chart of the Week: 53% of traffic to online stores comes via mobile devices, but this translates to just 32% revenue
While the majority of people browse sites via a mobile device, it seems that the majority of purchases are still made via desktop. According to Wolfgang Digital's KPI Report 2019, 53% of traffic comes from mobile devices, but mobile accounts for just 32% of revenue.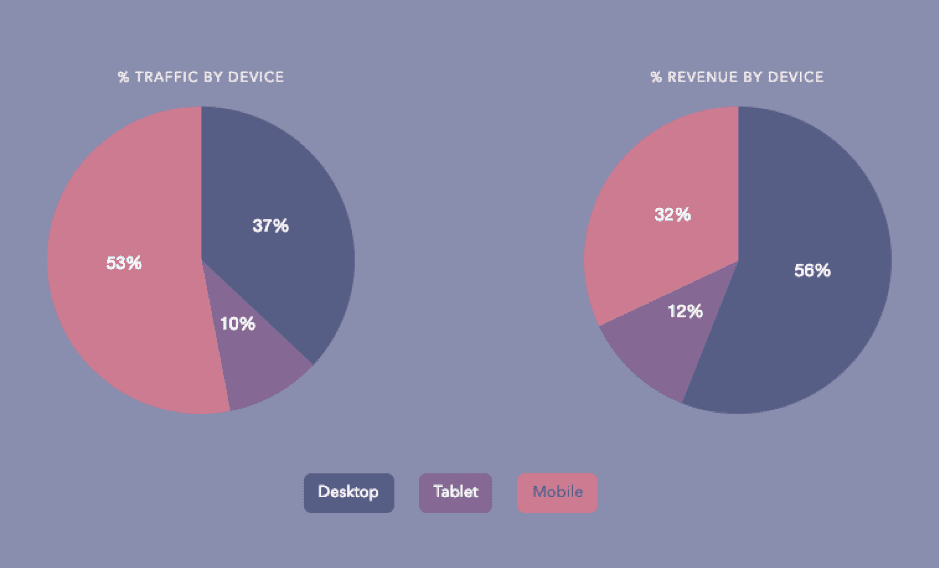 However, this is actually an improvement on last year's finding, with revenue on mobile device increasing by 23%, suggesting that it is now becoming easier and more convenient for people to press 'buy' on their smartphone.
In comparison, desktop accounted for 37% of traffic but over half (56%) of revenue, showing that larger purchases are still being made via computers. Tablets only took a small share of the overall market, with 10% of traffic and 12% of revenue.
The breakdown
In terms of retail only, both mobile revenue and traffic see an increase, with mobile accounting for 57% and 37%, respectively. This rise is taken straight from desktop's traffic and revenue, with retail traffic via desktop standing at just a third (33%) and exactly half (50%) of revenue coming from purchases made via computers.
This increase may be due to the rise of shoppable posts on social media, making it easier for followers to click straight through to a product they see on their feed and make a purchase. Shopping via mobile is also becoming increasingly secure, suggesting that an increase in trust may also be responsible for more people buying via mobile devices in the retail sector.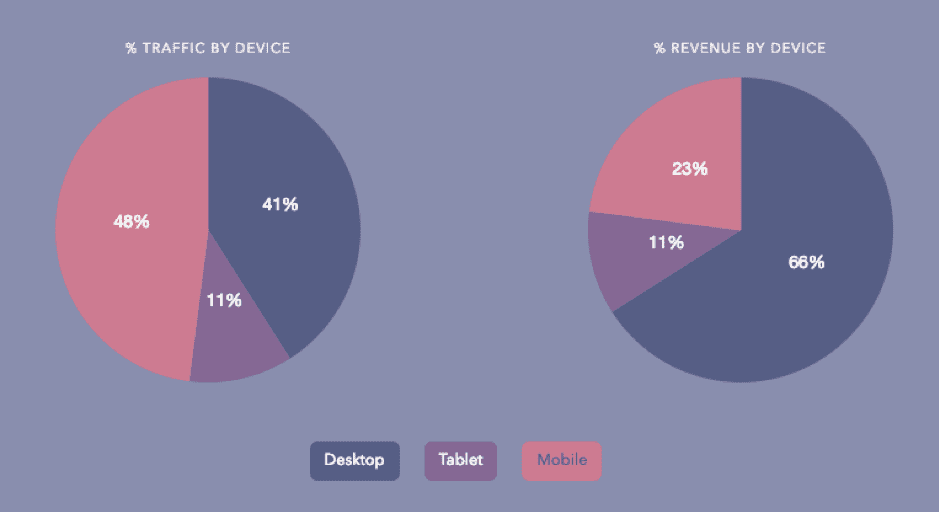 These figures look fairly different when it comes to travel purchases, which are likely to be high value. This sector is very much dominated by desktop with 41% of traffic and a huge 66% of revenue coming via this channel.
While traffic via mobile is 48%, with people likely browsing holiday destinations on their smartphone, only 23% of revenue comes from mobile. This could be due to the fact that travel is a big expenditure but also because purchasing a holiday means filling in a lot of information and checking a lot of details and terms and conditions. Doing this can be difficult on sites that are not fully optimized for mobile viewing.
Tablet traffic and revenue stay steady in the travel sector, accounting for 11% in both sections.

Where does traffic come from?
Across all sectors, organic search is still the biggest traffic driver, showing that SEO is still as important as ever. Overall, 43% of website traffic comes through organic search, with retail, multi-channel and travel all seeing more than 40% of their traffic come through this channel.
Online only stores see less traffic come through organic search, with just over a third (35%) of its traffic being organic. To make up for this drop, online-only e-commerce brands seem to turn to paid search more than other site types, with 23% of traffic being paid-for. In comparison, retail and travel only see 18% of traffic come through paid search while multi-channel brands have just 15% doing the same.
Interestingly, while Google Analytics estimates that social media accounts for just 5% of website traffic and 2% of revenue, Wolfgang Digital's report shows that this isn't the case across all site types. The overall figures are in-line with GA, but retail sites see 6% of traffic come via social and 10% of online-only site's get their traffic from social.
However, both travel sites and multi-channel retailers get below average traffic coming via social referral, with 2% and 4%, respectively. This suggests that these sectors may be more about inspiration on social media rather than offering a shopping experience.

Site revenue sources
In terms of revenue, organic search is the big winner again, bringing in 38% of revenue overall. Retail, multi-channel and online-only brands see a third or more of their revenue come via organic search (35%, 37% and 33%, respectively).
On the other hand, travel sees the vast majority of its revenue come from this channel, with 41% of its income coming from organic search. It could be argued that travel companies benefit more from organic search due to people searching online for the best deals.
The next highest revenue channel is direct travel, which accounts for 19% of all revenue. Once again, this is highest for the travel sector, which sees 23% of its revenue come from direct travel – a figure that is higher than retail (14%), multi-channel (14%) and online-only stores (19%). Again, this could be due to shoppers comparing prices across travel retailers and then returning to the site that offered the best deal or that they used last time they booked a holiday.
Paid search also accounts for a reasonable amount of revenue overall, coming in at 18%. Unsurprisingly, as online-only stores accounted for the highest paid search traffic, they also get the most revenue through this channel with 28% of purchases being as a result of paid search results.
As well as being 10% higher than the overall trend, this is also well above the rest of the sectors included in the report, with retail coming in second with 20% of its revenue coming from this channel. Multi-channel and travel see less revenue than average coming from paid search with 16% and 15%, respectively.

A look at conversion rates
Overall conversion rate is fairly strong, coming in at 1.85% across all sectors. The report also looked at conversion rate by user, which is higher at 2.91%. This leads to the overall average order value coming in at €282.
Travel has the highest conversion rate, which comes in at 2.09%, likely due to the fact that the majority of people searching in this sector are intending to buy. It also has a high average order value of €526, which is to be expected.
When broken down into hotel only and package holidays, the picture is slightly different. While hotel only has a better conversion rate than package holidays (1.99% versus 0.68%), there is a stark difference in average order value, with hotel only coming in at just €378 compared to package travel's €1074, showing that while there are fewer people converting when looking for package holidays, they are generally much higher value than other offerings in the travel sector.
The next highest conversion rate is seen by the online-only sector, which has an overall rate of 1.82% and the highest conversion rate by user, standing at 3.36%. Despite the strong level of conversion, the sector has a small average order value of just €110, which is the lowest of all sectors included in the research, suggesting that the majority of purchases in this sector are low value.

International conversion rates
Looking at international conversion rates, the UK has the highest rate, coming in at 1.8%, which is in-line with the overall average. This either suggests that digital marketers are getting more right when aiming their sites at the market in the UK or that consumers in the country ask for less from the brands they purchase from.
The UK is just ahead of Ireland, which has a conversion rate of 1.6% and Spain with its rate standing at 1.5%. In comparison, the rest of Europe has conversion rates standing between 1.2% and 1.4% while the US comes in at 1.4%.
Final thoughts
Although the majority of sales come via desktop, it's important to ensure your marketing and website is optimized for those viewing it on mobile devices. While mobile revenue isn't as high, it is the fastest growing channel for those shopping online and is likely to continue to grow this year.
Looking at ways to make it easier for customers to purchase via a mobile device, such as apps or shoppable posts, will likely increase the number of orders received from those browsing on smartphones. It could also help improve your overall conversion rate, as shoppers aren't moving away from your site before returning to purchase on a different device.
On top of this, a lot of people engage with brands – whether it's via social media or when browsing – on mobile devices. Ensuring that they have the best possible experience will help to bring them back to make a purchase, even if they return on a computer rather than a smartphone.
The report also shows the importance of improving your organic search results. Not only does organic search bring more traffic to sites across all sectors, but it also results in the most revenue, showing that there is a lot to be said for investing in an SEO strategy and regularly reviewing this.