Personalization is key to improving lead generation quality
Chart of the Week: 60% of marketers say personalization is a key strategy for improving the quality of leads being generated
Lead generation is an important part of marketing, especially now that many companies are getting rid of the internal silos and sales and marketing are working more closely together. However, it isn't just the number of leads you need to consider when measuring success; you also need to take lead generation quality into account.
The quality of your leads essentially tells you how likely they are to become customers, with high-quality leads being the most sought after. But exactly how do you attract leads that are more likely to convert?
While there are a huge number of techniques, options and technology available, it can be hard to know exactly where your efforts should start, let alone where your ongoing focus should lie. Despite this, improving the quality of leads generated is still a big focus for most marketers, according to Ascend2's Lead Generation Quality Survey. So how are marketers looking to generate better-quality leads?
Primary strategies for improving lead generation
Personalization is being viewed as a key method of improving lead quality for marketers, with 60% of those surveyed saying this is a key strategy. Considering the fact that 72% of consumers will now only engage with personalized marketing messages, it makes sense that improving marketing personalization is seen as being so important.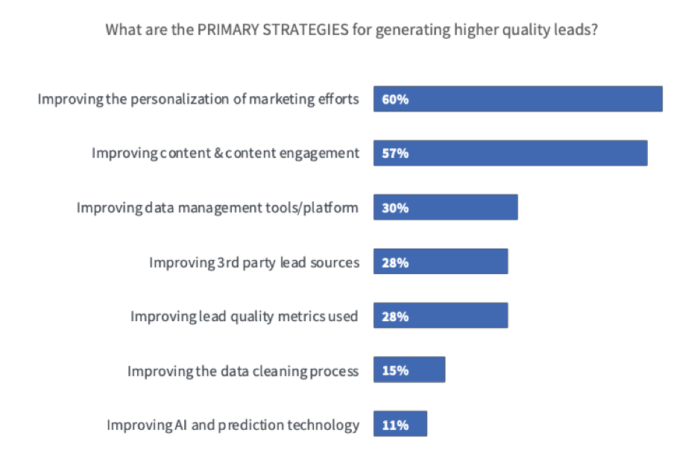 Personalization offers content and messaging that is tailored to users' interests and actions, making it an ideal method for guiding them down the customer funnel. Utilizing personalization can, therefore, mean you're able to ensure that your products or services are suitable for an individual, as well as address any pain points they may have that could stop them converting.
This leads to the second most popular strategy, improving content and content engagement, which was selected by 57% of survey respondents. Delivering lead generation content effectively helps to answer questions potential customers may have and showcase the benefits of your company.
Other strategies highlighted by the survey respondents include improving data management tools/platform (30%), improving third party lead sources (28%), improving lead quality metrics used (28%) and improving the data cleaning process (15%). Surprisingly, only 11% said that improving AI and prediction technology was a primary strategy, despite these being helpful in terms of delivering better personalization.
Does improved lead quality lead to strategic success?
Some 95% of marketers who find a lead generation strategy to be successful agreed that the quality of their leads means a more successful strategic execution. Over a third (35%) said that a lead generation quality strategy proves to be very successful, showing that focusing on lead quality rather than lead volume could pay off for businesses.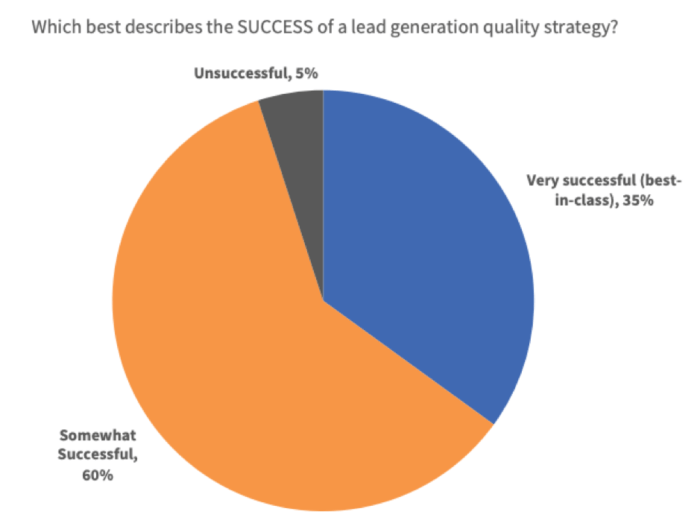 Further to this, 60% said that it is somewhat successful with just 5% saying that a lead generation quality strategy is unsuccessful. This suggests that developing the right strategy for your brand could lead to positive results overall, which could ultimately improve your conversion rates.
What are the critical challenges?
Although a top primary objective for marketers when it comes to improving lead generation quality is improving content and content engagement, doing so is also a challenge for 53% of those surveyed. This is often due to a lack of a content marketing plan, which can leave content producers without the direction or customer insights needed to create content that resonates.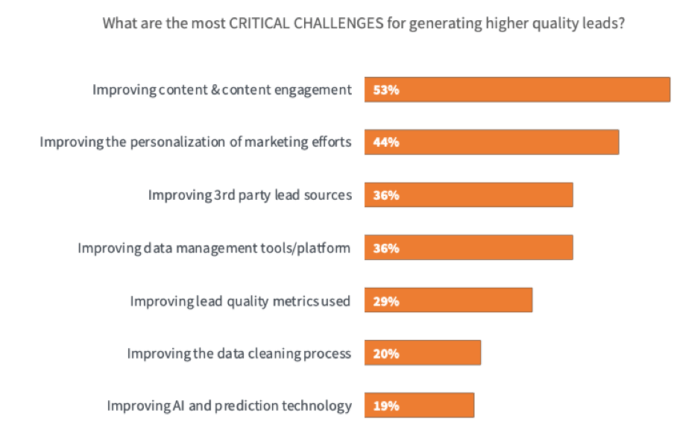 As well as content quality, 44% of those who responded to the survey said that improving the personalization of marketing efforts represents a critical challenge, despite this being the key improvement the majority want to make.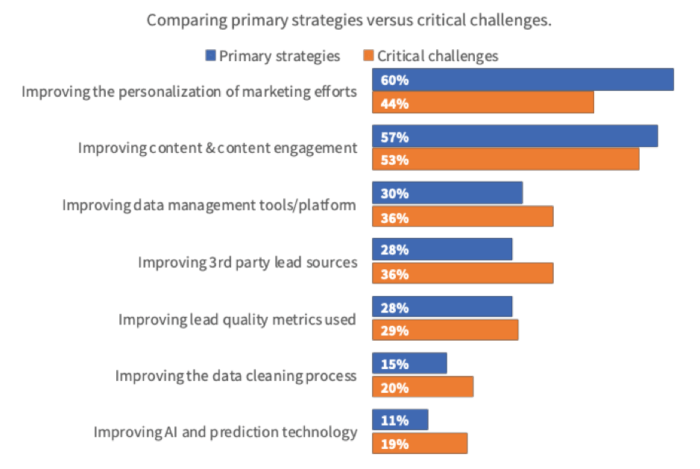 This shows that marketers need to assess what tactics are going to have the most positive impact compared to those that represent the most critical challenges. Considering if there are any quick wins that can be implemented while you also work on something larger could help see improvements early on.
Marketers should also weigh up the estimated benefits to big projects that include plenty of challenges in order to assess whether the ROI is likely to be worth the time and resources that will be needed to implement them. After all, if something is seen as being a critical challenge that will take a lot of time to overcome but is likely to see a relatively low ROI, is it a good idea to go ahead?
What do lead generation quality budgets look like?
That being said, the majority of marketers surveyed expect to see budgets for lead generation strategies to increase, with more time, resources and expenses being allocated to them.
A total of 69% said that budgets will increase moderately with 19% expecting their budgets to see a significant increase. Comparatively, just 11% are expecting a moderate decrease in their budgets with only 1% forecasting a significant budget decrease.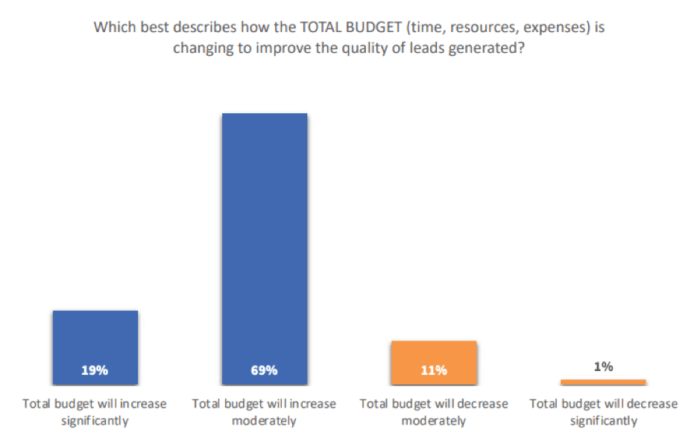 Ensuring that these moderate increases in the budget are allocated to the right place should help both overcome critical challenges and focus on the tactics that will pay off in the long run. However, it is worth bearing in mind that stakeholders will still want a case to be made for budget allocation, so looking into what could deliver the best results rather than attempting all strategies is still the best way to move forward.
Looking at lead generation quality tactically
With quality being the aim of the game rather than quantity, marketers need to consider a tactical approach to their strategies. While many tactics can result in a lot of leads come through, you want to focus on those that are going to improve the quality of your leads and help get leads ready to convert.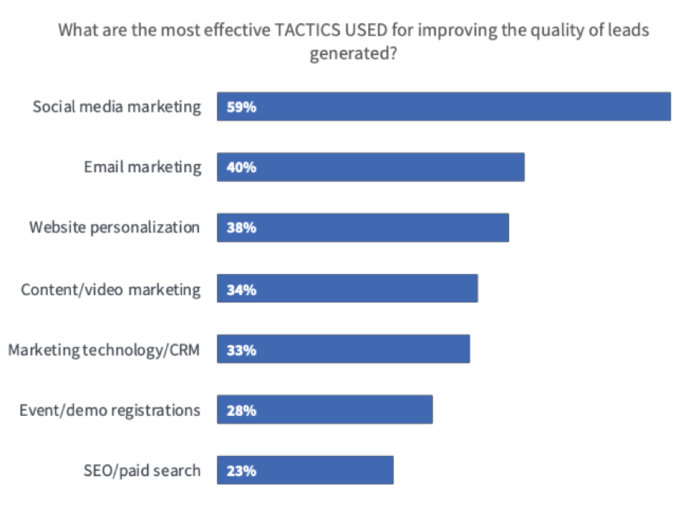 According to the survey, social media is the top tactic for helping to improve the quality of leads being generated, with 59% of respondents agreeing with this. Email marketing is also an effective option, with 40% of marketers agreeing that emails help to improve lead quality.
Perhaps unsurprisingly, SEO and paid search are bottom of the table, with just 23% saying they are effective. This is likely due to the fact that you need to cast a fairly wide net with these tactics in order to improve the ranking of your site and the traffic levels it brings in. However, if you are making sure your best-performing keywords are landing people on pages that are optimized for conversion, both SEO and PPC can bring in qualified leads.
Allocating resources
As with many marketing projects, improving the quality of the leads being generated requires a strategic approach to resource allocation. It is likely that you may have to invest in a mix of in-house and outsourced resources in order to get the best results and utilize the expertise required to complete your project.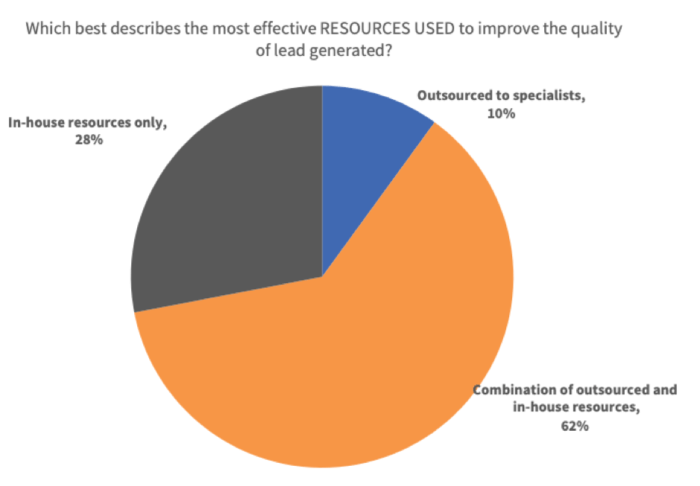 In fact, 62% of survey respondents said that they use a combination of in-house and outsourced resources in order to improve the quality of the leads being generated. Just over a quarter (28%) said they use only in-house resources, which could be due to the size of the company and/or marketing departments. In comparison, only 10% said they fully outsourced, with more marketers choosing to have at least some control over their efforts.
Measuring lead generation quality
Of course, in order to work on improving your lead generation quality, you need to be measuring it using the right metrics.
Over half (56%) of those surveyed said that the most effective metric they use to measure lead quality is the sales revenue generated from leads. After all, if a lead is high-quality, it is much likely to result in higher revenue.
However, it's worth bearing in mind that this metric may not be a suitable way to measure lead quality for all business. If you sell one product at one price, it is a good indicator, however, if you sell at varying price points, you could make the same revenue from 50 bad-quality leads as you do 10 high-quality leads.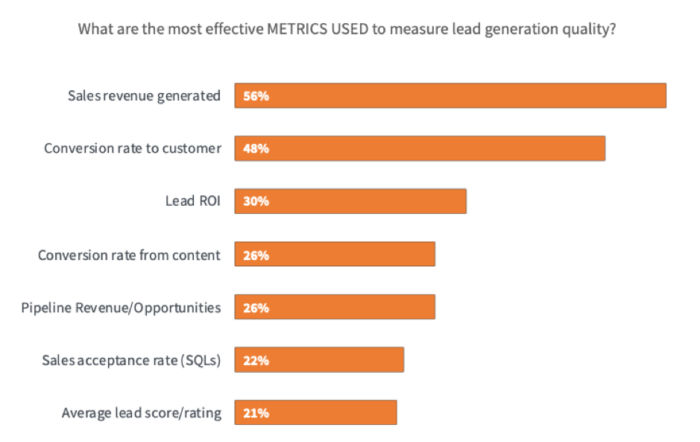 The second-best metric for measuring lead generation is conversion rate to customer, selected by 48% of respondents. This is likely to be an effective option for most businesses as it allows you to track exactly how your leads are converting, giving a good indication of their quality and also highlighting any possible pain points that need to be addressed.
Other metrics selected were lead ROI (30%), conversion rate from content (26%), pipeline revenue/opportunities (26%), sales acceptance rate (22%) and average lead score/rating (21%).
How often should you track?
Using the right metrics to assess success is all well and good, but you need to ensure that you're tracking them regularly. In fact, over half (54%) of respondents said that their lead quality is continuously measured. This helps to identify any issues and allow you to adjust your strategy in order to attempt to improve your results.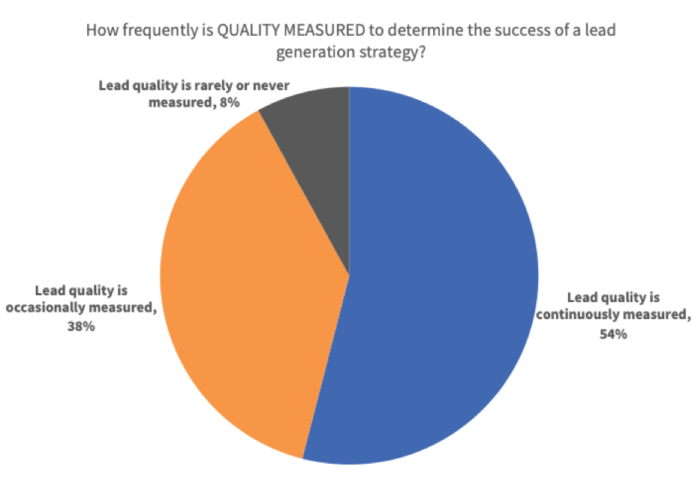 However, 38% said that lead quality is only occasionally measured, which could mean that issues are not seen until you have already missed the opportunity to improve your strategy, reducing your lead to conversion rate. A further 8% said that lead quality is rarely or never measured, which is a huge error when you're trying to attract quality leads.
Final thoughts
While getting loads of leads may look like a good thing, it's the conversion that counts. A handful of quality leads who are more likely to get to the checkout is always going to be better than hundreds of leads who aren't and may never be ready to purchase.
Attracting and nurturing those who are more likely to buy will see a better return on investment in the long run, which is why a lead generation quality strategy is always going to be beneficial.
However, it isn't just the tactics you use and the messaging you show that need to be part of this strategy. You also need to assess what metrics you are going to use to measure success, as the metrics you track should suit your business and be reflective of your offering.
Just as with any other type of marketing strategy, you also need to ensure you are tracking your metrics continuously and reporting regularly in order to make the most of any opportunities or deal with any issues. Doing so will enable you to improve your strategy and ultimately bring in more high-quality, ready-to-convert leads.