As well as creating demand through strong creative and large-scale reach, social media now enables consumers to instantly purchase what they see on their screens
For many of us today, we're just as likely to buy something online as in a physical shop. E-commerce has consistently grown and developed over the last 10 to 15 years and it appears this trend is set to continue.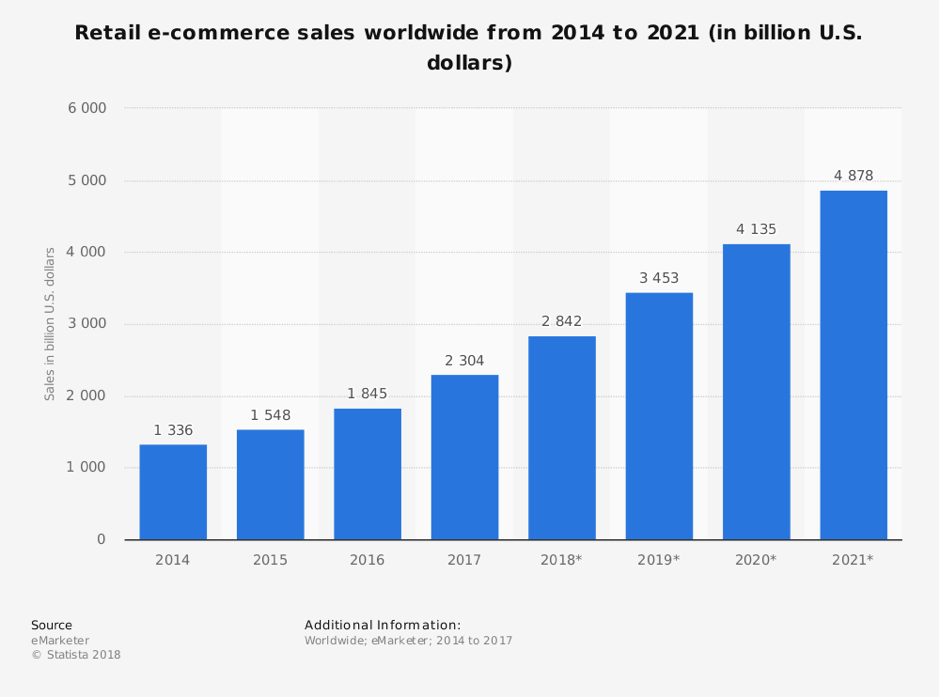 With the likes of Amazon setting new standards all the time, we've never expected more from our e-commerce experiences.
Over the same period, social media has exploded and now plays a significant role in our digital lives.
Social media has revolutionized the way we consume information, communicate with friends and experience the world. In fact, we're so connected that social media is often blamed for our modern crisis of distraction!
However, social media has also opened new opportunities for brands and consumers. As well as creating demand through strong creative and large-scale reach, social media now enables consumers to instantly purchase what they see on their screens.
The combination of e-commerce and social media has led to a new era of social commerce. It's the brands that are optimizing their digital experiences across multiple channels that are establishing a strong competitive advantage.
What is social commerce?
At its most simple, social commerce is about selling products directly through social media platforms.
Sometimes referred to as social shopping, social commerce is the combination of social media and commerce, enabling brands to streamline the buying process whilst amplifying the effectiveness of social advertising.
Some of the most common social commerce features include:
Buy buttons within social media posts
Shoppable posts and stories
Ads on social networks including calls to action redirecting to e-commerce sites
Peer-to-peer buying and selling
Social commerce plugins and apps
For the purpose of this post, we're going to focus on the stoppable nature of social media posts and stories.
Dave Chaffey recently blogged about the most important retail e-commerce channels. Whilst the data in his post showed the importance of paid and organic search for driving traffic, social media is surprisingly low in comparison.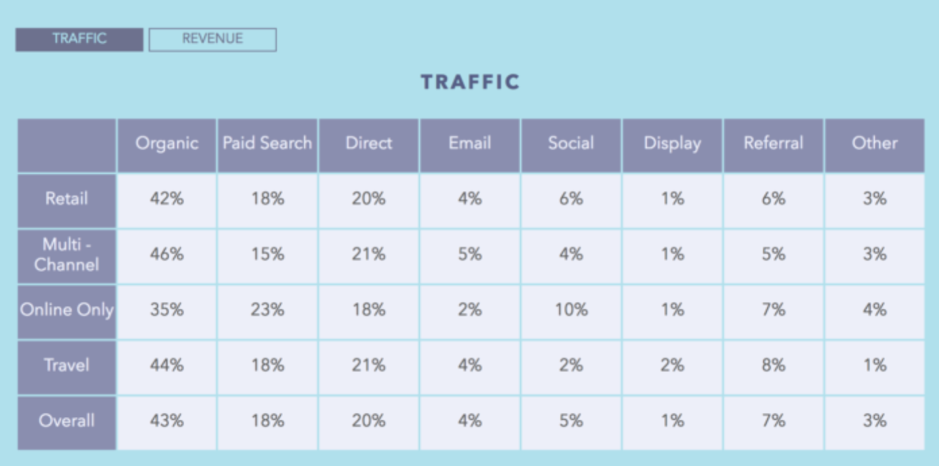 This demonstrates the opportunity that social commerce may offer brands. Many users don't want to leave a social environment for an external site to complete a search or purchase. There is now an expectation for a more seamless, frictionless buying experience.
This is where brands can develop a true social commerce experience, making it easy for users to complete their purchase by reducing the potential for confusion and the risk of abandonment. Rather than sending users away, consider instead how you can capitalize on their purchase intent when their enthusiasm for your product is at its highest.
Trends and opportunities
So what are some of the most important trends in social commerce to keep in mind and what are the practical steps to take advantage and succeed?
Mobile
Although mobile now accounts for most visits across the web, this is not the case for e-commerce. The fiddly nature of navigation and payment forms means that mobile accounts for slightly over a third of all e-commerce visits. Brands looking to sell online must make bigger efforts to create mobile experiences that enable consumers to make purchases effortlessly across different stages of the journey.
Social media sites are by their very nature mobile-first, and users instinctively know how to browse and navigate. Brands like Superdry are leveraging this by developing a smooth buying experience from post to purchase using Instagram's Shoppable posts.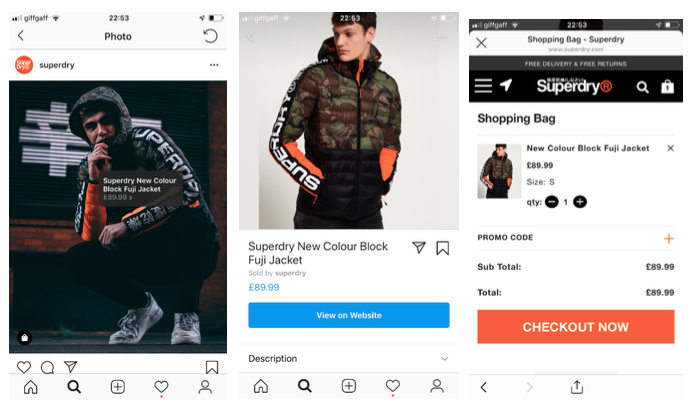 The brand combines visually engaging content with a seamless checkout process via its mobile site, all contained within Instagram's social environment. For many users, they won't even realize that they've been redirected to Superdry's mobile store. The experience is congruent with Instagram's and checkout is simple and straightforward.
Visual
The simultaneous growth of smartphone adoption and social media means that visual content has become more important than ever. The term 'instagrammability' refers to the trend of social media users to spend lots of time and effort on the composition, lighting and colour of their visual content to stand out from the crowd.
Brands looking to make an impact on social must follow suit and become visually driven, relatable and authentic. The social content e-commerce brands produce is what will attract attention at the top of the funnel and encourage users to click to find out more, as shown in the Superdry example above.
Unless you're committed to creating visually appealing imagery, you run the risk of blending into the background of users' busy, fast-scrolling mobile news feeds. Prices and promotions alone will only get you so far.
MADE.COM use both Pinterest and Instagram to exploit consumers' desire for unique, designer furniture with stylish, aspirational photography: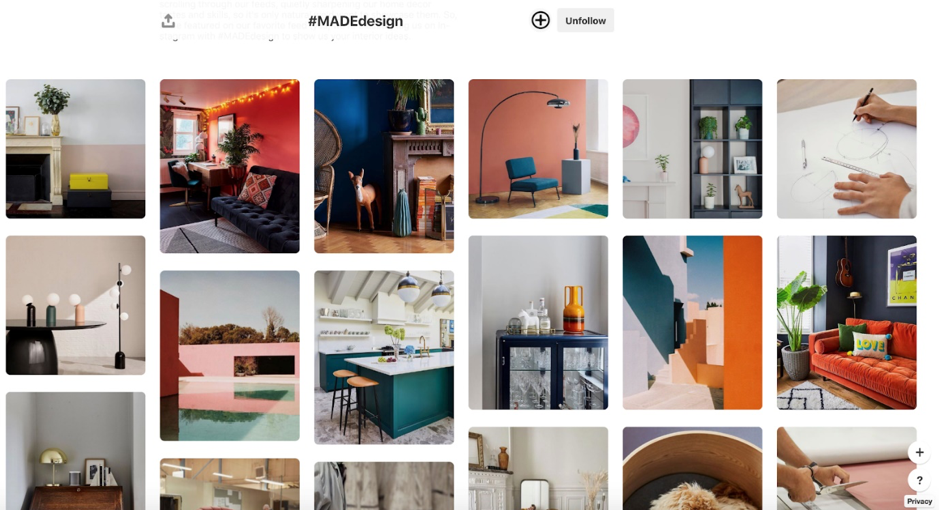 Through the combination of strong visuals, user-generated content ("share snaps of your MADE pieces using #MADEdesign for a chance to have your pic posted on our feed") and exclusive offers, MADE.COM has created a strong customer experience that works across several different social channels.
Trust
Whilst consumers may be more used to browsing and purchasing online, social commerce is still relatively new. The recent privacy scandals affecting Facebook and other technology platforms do not help establish confidence in Big Tech.
Brands looking to move into social commerce should look at ways to build trust and create an online experience that demonstrates a clear value in browsing and buying online.
It's interesting to compare the response rates for different retail brands on Facebook. Conventional wisdom would suggest that John Lewis & Partners' reputation for customer service would put them ahead of their rivals, such as Next and M&S. Yet this might not be translating online.

Users expect quick, informative and helpful responses from brands. These expectations may not always be possible, or even reasonable, yet the competition for attention has never been higher. Therefore, any edge a brand can find to create trust and affinity should be pursued.
Customer service may not seem like the most glamorous of areas to optimize, but when executed well it can pay dividends. This is especially true on social, where brands taking a more innovative approach are really excelling.
LEGO replies almost instantly on Facebook Messenger, using their Gift Bot to guide users through their vast catalogue and offer gift recommendations based on specific criteria.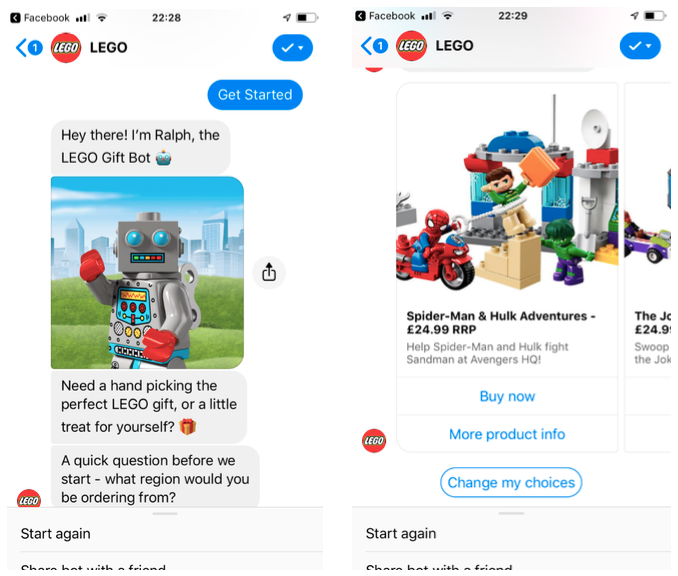 The bot is a really cool feature and definitely helps narrow down options and bring ideas to life. This not only helps build trust and credibility but has also boosted sales for a range of different purchases.
Conclusion
E-commerce continues to grow and evolve, and social commerce is an example of how two different areas of digital have combined to create a new way to shop online. Social commerce is still a relatively new area and even the most established brands are testing and learning. However, there are opportunities worth exploring and the relatively low barriers to entry should give smaller challenger brands confidence to experiment.
Join To Our Newsletter
You are welcome