Understanding the specifics of the lifestyles, habits, preferences, and needs of people of various cultural backgrounds can be the key to rapid campaign success
If you really want to engage your customers, then you should know what it is like to be in their shoes. Understanding the specifics of the lifestyles, habits, preferences, and needs of people of various cultural backgrounds can be the key to rapid campaign success.
If you have already dabbled in international marketing, the following is nice to keep in mind: your customers are people who come from different countries, with different goals, purposes and daily challenges. They may not have equal access to the internet and particular web sources where you could communicate with them. Understanding this should be the first step towards growing a robust, diversified marketing campaign.
Multicultural marketing campaign strategy includes targeting people of different cultural backgrounds individually but with the brand's same overarching touch. It's all about meeting the needs of specific target audience segments instead of delivering an impersonal message designed for both everyone and no one in particular.
We've compiled some of the most effective tactics that could help you to implement multinational marketing campaigns. But first, let's consider why it is so important.
How different ethnicities consume content
The Asian American population grew by at least 72% between 2000 and 2015, as reported by Pew Research, which made this ethnic group the fastest growing in the US. As predicted by the US Census Bureau, by 2060, the Hispanic population will have grown by 115% and by that time will make up 29% of the total US demographic.
If you're not doing multicultural marketing yet, then you're not doing marketing at all. The numbers below illustrate general content consumptions habits: how and where people of different ethnicities prefer to consume content.
As seen from a content consumption report, African Americans are the most active television watchers, followed by Hispanics, who also prefer mobile internet and radio. When it comes to Asian Americans, they don't seem to be active TV watchers or radio listeners.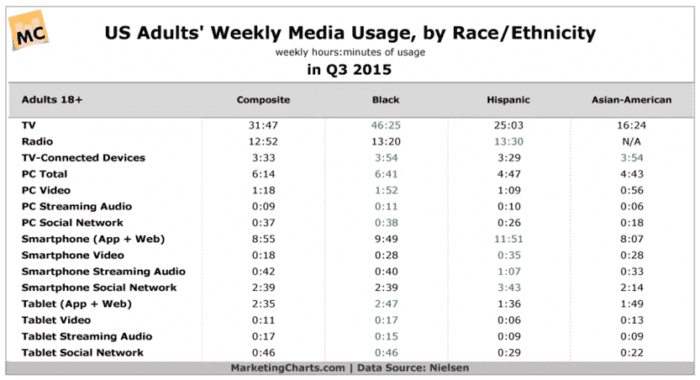 Segmenting by age reveals that multicultural millennials (aged 18 to 34) consume media at a very high pace (93% smartphones, 89% Smart TV, 78% radio, 62% blogs). They make up the largest population cluster in the US, representing over 75 million people. At the same time, 84% of millennials don't trust traditional ads and discover 50% of the new products outside of physical stores.
Apparently, mass-oriented marketing and advertising tactics are losing their effectiveness. The days where marketers could categorize the population into buying personas are gone because we've entered the new era defined by personalization. With the constant growth of certain ethnic segments, advertisers and marketers can practice a parallel growth for their campaigns by nurturing the brand loyalty among these audiences.
In order to capture the interest of these "new audiences," the brand will, most certainly, have to change several fundamental things: advertising tactics and technological processes.
1. CRM and DMP for segmentation
According to the Interactive Advertising Bureau, predictive analytics and cross-channel measurement are what 50% of data-centric companies are striving to have in their organizations. Practitioners see a growing need in proprietary data centralization systems since they remove reliance on third-party data management organizations. Such technologies, like CRM and DMP, centralize storage of all data assets, which is crucial if you market campaigns globally.
CRMs can work with personalized data, collecting all personal information that can be verified, including names, postal addresses, email addresses, phone numbers and the like.
On the other side is DMP (data management platform), which accumulates consumer data from many different sources in one place, organizes, categorizes and segments it, letting marketers easily apply segments during advertising campaigns. It can gather three types of data: information gathered by CRM (first-party data) and information about campaign results, activities, responses and other behavioral factors (second and third-party data).
CRM makes it easier to retain existing consumers, encouraging greater user activity during promotional campaigns and increasing the sum of the average check. Additionally, DMP is also focused on customer acquisition, since it's capable of look-alike modeling (finding a new audience similar to the existing). Ready-made user segments generated by DMP may be further adjusted to DSP (demand-side platform) in order to personalize the experience for every segment of your multicultural audience.
2. Content personalization for segments
Before you start developing an advertising message to various multicultural segments, it is important to determine how your audience segments assess features, functions and benefits.
In order to understand how it's happening on a cultural level, the marketer may run a conjoint analysis. This analysis consists of real-life scenarios and statistical modeling of market decisions. It is widely used for defining appropriate pricing, product configuration and other marketing nuances.
The next step will be the actual designing of the creative and testing the best variants on A/B testing software. Preferably, the testing should start a week or two before the campaign launch.
At this stage, do not overestimate the human factor. Remember, your multicultural campaign strategy should not backfire and turn your efforts into something like a SNL Cheetos commercial. That's why, in case you have professionals hailing from different ethnic groups on your team, you should kindly ask them to participate in campaign assessment and provide their own opinion considering ad unit relevance and appropriateness.
3. Omnichannel advertising
As soon as variations of your ad units for multicultural segments are tested, they're ready to be used. There are plenty of ways to purchase advertising space online, the most popular among them are manual placements, Google, Facebook, Instagram advertising and programmatic and PPC platforms.
Manual placements and their characteristics are negotiated and arranged between advertisers and publishers individually. If you're going to do a lot of media buying, it's worth it to purchase a subscription to specialized media planning platforms that aggregate the supply.
PPC platforms, Google and Facebook ads make it easier to find narrow niche multicultural audiences. The contextual targeting tool from Google, for instance, has advanced features that help to designate both language and location of the target user. Google Adsense provides keyword suggestion for display network campaigns. Facebook ads enable the user to target customers or certain regions within pre-scheduled hours.
Programmatic advertising automates the purchasing of ad impressions on the myriads of targeted platforms and web sources through DSP (demand-side platform). DSPs do not own advertising resources. Instead, they integrate web sources via SSPs, which allow publishers to sell their inventory to advertisers in real-time.
Programmatic platforms feature the broadest set of targeting options, from language and location to device ID, OS and browser to dayparting (time of the day scheduling), which helps ads appear at the right time and on the right screen.
The omnichannel advertising approach means integrated consumer perception of a product or service is delivered across all communication channels: mobile, in-app, desktop or connected TV. As a result, the transition of your client from one channel to another is at glance. Customer's purchasing path becomes easy to track and analyze. That is why advertisers pay specific attention to the omnichannel capabilities of programmatic platforms.
Multicultural users who visit the publisher's web source across devices, as a rule, bring great profits in the long run. As a result, shoppers who receive personalized omnichannel advertising spend 10% more time in online shops and visit brick-and-mortar stores 23% more often compared to those who are communicated via a single channel.
Brands don't have to invest money in purchasing omnichannel marketing tools when advertising with omnichannel DSP. It is enough to register at the platform and start a campaign on different mediums with corresponding static or interactive advertising formats that encourage views, clicks, conversions or in-store visits.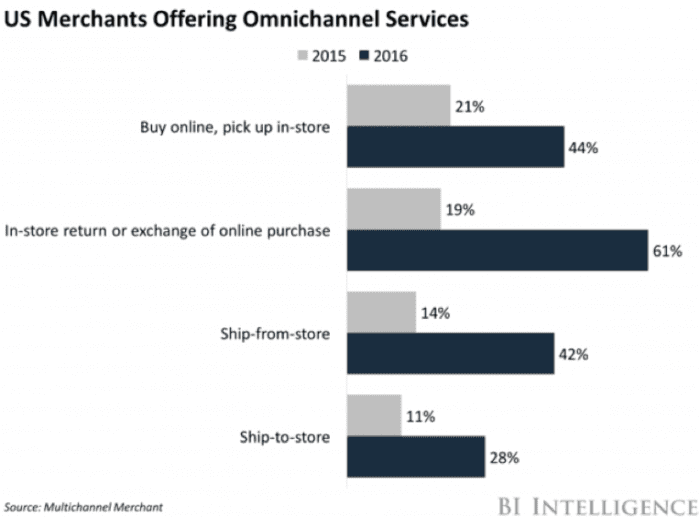 4. Budget, frequency and dayparting
If you're planning a multicultural advertising campaign, remember that multicultural audience segments have their differences: content consumption mediums, time of the day they connect to media sources, device types and other variables. This means that in order to empower your digital ad campaigns, obtain higher ROI and CPC, you'll have to adjust them to each segment:
Correct targeting
There are several targeting options that may come in handy in multicultural advertising campaigns: targeting according to geolocation, language, IP and time of day. Also, you can apply socio-demographic targeting, targeting by device type and OS. Correctly set targeting options will not only make impressions relevant but also help to safeguard the advertising budget. Targeting options may vary; however, today they can be found on numerous ad platforms: Google, Facebook, programmatic, PPC, etc.
Frequency capping
When you create an ad campaign, you may set up the frequency capping on the advertising platform you are intending to use. It will determine the number of impressions per unique user. This function helps to avoid 'burn out' of the user you target, preventing them from 'advertising fatigue,' and saves ad budget from overspending. If you're placing the ad manually, this point must be negotiated with the publisher.
Dayparting
Determine the time of day when your audience segments are most active. The dayparting option on the ad platform allows showing ads to each segment in accordance with customer activity patterns. Configure a suitable time of the day, and you will be able to show ads to customers when they are most responsive. Google Adwords and programmatic platforms support a departing option. Also, you can easily configure the dayparting function for Facebook and Instagram campaigns.
Budget limit
Another option that helps to avoid advertising budget overspending is daily, weekly or monthly budget limit. Google, Facebook ads and programmatic ad platforms enable this function. In simple words, the advertiser sets a restriction on a certain amount of money that is to be spent during campaign flow. The system will automatically control the budget and allocate the budget sum accordingly during the period.
Analysis
If you are running a multicultural campaign in two languages, it is easy to find out which one performs better. For instance, if one of them generates more traffic, you can recalibrate your future campaign, investing more money in your budget in a campaign featuring a winning variant of creative. Insightful stats can be generated by ad platforms you use, Google analytics and specialized tools that gather the stats across multiple marketing channels.
The takeaway
Multicultural marketing helps your business to achieve several goals at once. Apart from extending the audience pool, it better makes people resonate and engage with your brand. In this way, it improves the overall perception of your company, its mission and purpose. The combination of the user data, correct advertising tactics and technology might open new horizons for your multicultural campaigns, accelerate ROI growth and significantly enhance user loyalty.
Join To Our Newsletter
You are welcome