Are You Exploiting YouTube's Cheap Advertising Platform Yet?
NOW UPDATED! This post was expanded for 2017 with new tactics for leveraging YouTube for your business.
You have a business and you're looking to expand your reach, grow your audience, and increase your sales. If you've heard that advertising on YouTube is an inexpensive and lucrative means of doing this and aren't sure how to get started, then you should keep reading.
YouTube video advertising is one of the most underutilized channels of marketing because there just aren't that many small businesses taking advantage of it yet. Most of the ads you see on YouTube are paid by the big players, but that doesn't mean they're the only ones who can play the game.
YouTube advertising is still in its infancy, which means that you can get very cheap clicks. Are you taking advantage of this?
Take a look at the stats YouTube provides:
1 billion monthly users
The number of hours people are watching on YouTube each month is up 50% year over year
300 hours of video are uploaded to YouTube every minute
Half of YouTube views are on mobile devices
Mobile revenue on YouTube is up over 100% year after year

Youtube app and website are more popular among US residents ages 18-49 than any US cable network.

Youtube is available in 88 countries and can be

viewed in 76 languages

95% of users to watch the video sharing website in their native language.
Those are some big numbers. Imagine getting even a fraction of that attention.
Better yet, let's just think of those numbers in terms of today's 24 hours. Back in 2012, ComScore reported that over 89 million people in the United States alone are going to watch 1.2 billion online videos today — a number that continues to grow.
Now consider the following results of a survey by Walker Sands concerning social media's influence on consumer's purchases: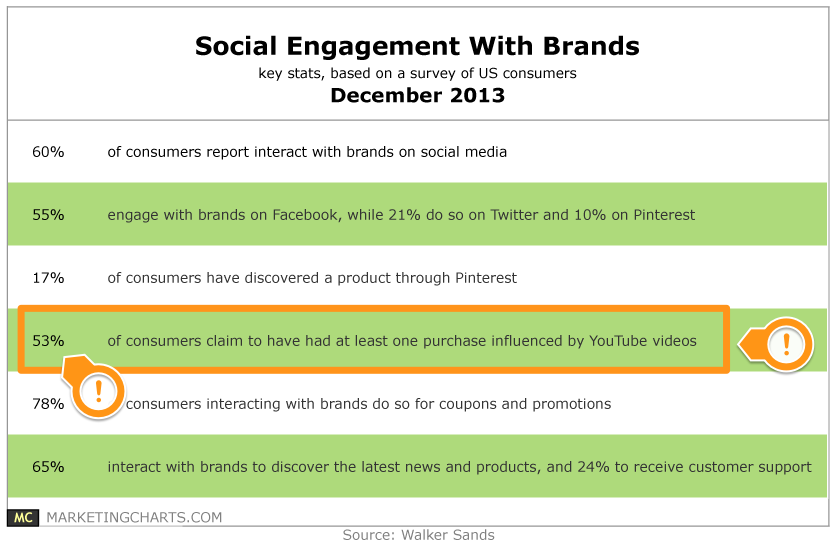 1 in 2 consumers claimed that at least one of their purchases was influenced by a YouTube video.
As you can see, it makes complete sense to start advertising on YouTube as soon as possible.
We've discussed the reasons why YouTube advertising can be lucrative for your business, so now it's time to walk you through how to create your advertising campaign and cash in on YouTube.
Here are the 9 steps you can take to create a successful YouTube marketing platform.
1. Have a Goal for Your YouTube Advertisement
The first step to creating any successful pay-per-click campaign is to make sure that you have a clearly defined goal for your campaign. Without a goal, you won't know which metrics to measure or how to improve the campaign. In the end, without a goal, you won't be able to confidently state whether or not the campaign was successful.
So what are you trying to do for your business? Brand exposure? Lead generation? Make a sale? Promote a free webinar or event?
For example, if your goal is brand exposure, your key performance indicator (KPI) may be impressions or number of times viewers watched your entire advertisement. If it's lead generation or sales, you'll want to set up a landing page and track conversions (we'll talk more about that later).
Because of the nature of YouTube ads (it's display-based), it's best used as a top of the funnel marketing tool. So more appropriate goals are awareness or lead generation campaigns rather than sales.
Whatever your goal is, it's going to determine the type of campaign you will create and the audience you will target.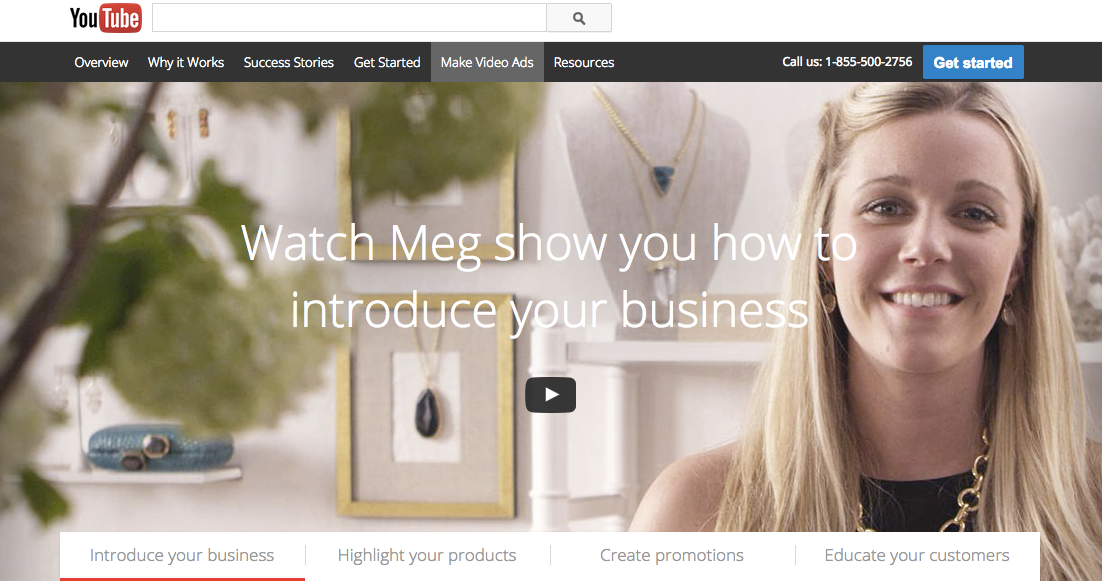 2. Create Your Video
This is arguably the most challenging step of of advertising on YouTube.
With consumer attention spans decreasing every year, you have 8 seconds to capture and hold someone's attention. If your video isn't entertaining or relevant, viewers will skip your ad every chance they get. Your goal is to make your YouTube ad unskippable.
Succeeding on YouTube doesn't require reinventing the wheel with each video. In fact, quite the opposite. Many brands are finding success building on existing, successful storylines. ~ Lisa Gevelber, VP of Ads Marketing at Google
If you have a relatively large budget and you're looking to outsource the video production, REP Interactive is a great company that we recommend to our clients at Single Grain.
However, if you're on a tight budget, there are various tools you can use to create the video in-house.
If you'd like to try your hand at creating an animated in-house video, you can use a free DIY tool like PowToon. Another more advanced tool is Go Animate. It isn't free, but it'll be cheaper than hiring a production team.
To help you with the creation process, YouTube provides tips and examples of how to create different types of effective video ads.
If you need inspiration, study how these YouTube ads hold the viewer's attention. Here's another example—an advertisement for the movie Madagascar 3:
While it may not be a movie you'd watch, ReelSEO explains why it's a perfectly executed pre-roll ad.
Madagascar 3 has 5 seconds before people click "skip" and in that short amount of time they:
Addressed the audience
Asked a question
Showed 7 fast-paced cuts
Ask yourself how you can integrate some of those elements into your own advertisement.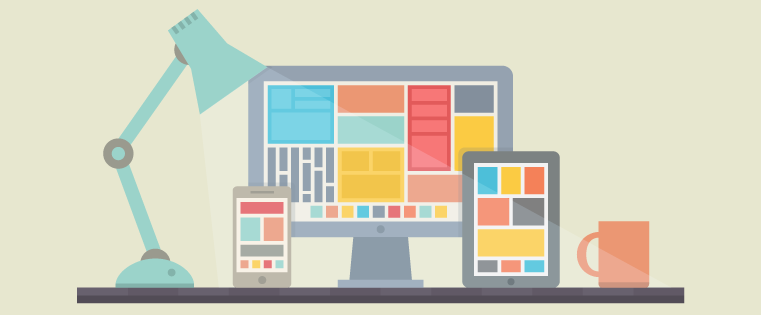 3. Create a Landing Page that Aligns with Your Video and Goal
One of the biggest mistakes advertisers make is pushing an ad click to a crappy landing page. Or worse, they direct the viewer to their homepage.
Have you ever clicked on an advertisement, excited to see what the advertiser had to offer, but wound up on a page that had nothing to do with the ad you clicked on?
It's because the advertiser didn't match the message of the landing page with the message of the ad.
Perhaps you've made that mistake before, but now you won't. Make sure that the copy of your landing page matches the message presented in your video advertisement, otherwise you'll confuse the viewer.
Here's why.
Assuming that your video provides the viewer with a specific unique proposition, the homepage probably won't reflect that proposition. While your homepage communicates your business's unique value proposition (UVP), your landing page should communicate your unique campaign proposition (UCP) that matches your video advertisement.
As you work on your landing page, make sure to follow best practices to ensure that it's well-designed and optimized for conversions.
We use LeadPages to build our landing pages in minutes.
[su_note]Free Bonus Download: Get a list of 10 insanely actionable first steps to running a successful YouTube ad campaign! Click here to download it free.[/su_note]
4. Create Your YouTube Channel
If you don't have a Google Adwords or YouTube account yet, it's time to create and link them. It's simple and quick to do—here's how:
Once you create a YouTube account, access your account settings by clicking on your profile picture at the top right of the homepage.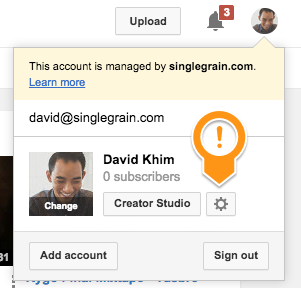 Then you'll be taken to your account settings.
In my case, I've already created a YouTube channel. Assuming you haven't created a channel yet, the link to create one will be next to your name.

5. Upload Your Video

While viewers most likely won't find your video directly, it's important to write a good headline and video description to catch the people who may be searching for your product.
Take a look at this infographic from Neil Patel at QuickSprout about how to formulate the perfect headline.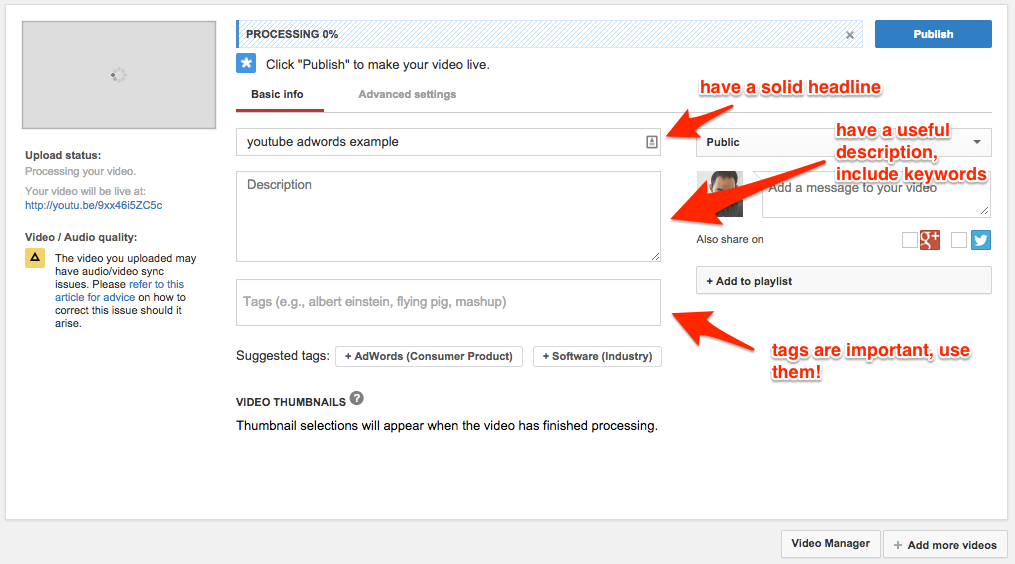 6. Create Your Google Adwords and Link it to Your YouTube Channel
A great way to start is by getting your Google Adwords account linked to your Youtube account. Connecting the two services opens up an array of video marketing opportunities. Once your video advertisement is uploaded, navigate over to Google Adwords and create your account.
Once your video advertisement is uploaded, navigate over to Google Adwords and create your account.
After you've verified your account, go over to Google Adwords video campaigns and click on "All Video Campaigns" in the left-hand column. Then you will see a tab for "Linked YouTube accounts."
Bingo!


Just click "+ Channel" and you'll be provided with instructions to choose your YouTube channel.

Be sure to allow Adwords full access from YouTube so that pay per click service has all the video-sharing capabilities. Several options are now available to choose from in creating a video campaign
Mobile app downloads

Shopping

Standard video campaigns
The key to creating an great video that personifies your target audience's preferences and engaging and entices them to use your website. Don't forget to include your logo and or tagline in the video and a Call to Action such as "Subscribe", "Download" etc.
The video ad duration varies depending on the format you use. Rely on whatever helps obtain more eyeballs on your video. Often companies default to the "Standard" campaign option. Since it's the more popular option, so we're going to start with that one.
Standard video format has two options:
In Stream or Discovery Ads

Bumper Ads aka 6 sec. Video ads
In-Stream and Video Discovery ads are ads that play before, during, or after the chosen YouTube video. This type of advertising can be displayed on the websites of Google Partners and inside applications. You can also skip this ad 5 seconds after it begins.
Trueview Discovery enables your ads to be viewed by people who are searching for videos in the search results of related Youtube videos on the main page, on the websites of Google Partners, and in the applications in the Google Display Network.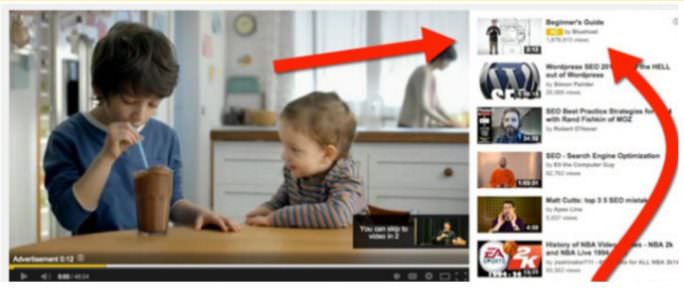 As of May 2017, advertisers now have access to Bumpers Ads, a new video format from Google. These are brief, (the longest are at most 6 seconds) videos aimed at increasing the reach of the users and promoting the brand.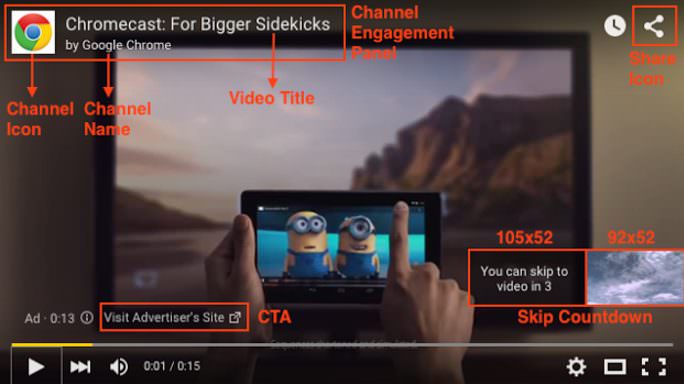 Bumper ads are short and built to be skippable. A fee is charged per a 1,000 impressions (CRM).
Shopping Ads are displayed in a "Shopping" video format. These are automatically selected for the In-Stream ad. Choosing this type of True-View should ensure the account is linked to your AdWords account, your Google Merchant Center account and that the product feed is ready to go.

You can Choose certain products from your Merchant Center account and use them in your campaign, create custom filters, and enter the attributes as well as display listings with product specifications from your linked Merchant Center account.
This way, you can enable viewers to see products they've already seen or are connected to the video they're enjoying. The products and services can be displayed directly within the video, and therefore enabling the viewer to purchase.
7. Set Up Your Campaign with Demographic and Interest Targeting
Here I'm going to walk you through creating a campaign for your YouTube advertisement.
First, visit the YouTube advertising homepage and click on "Get started."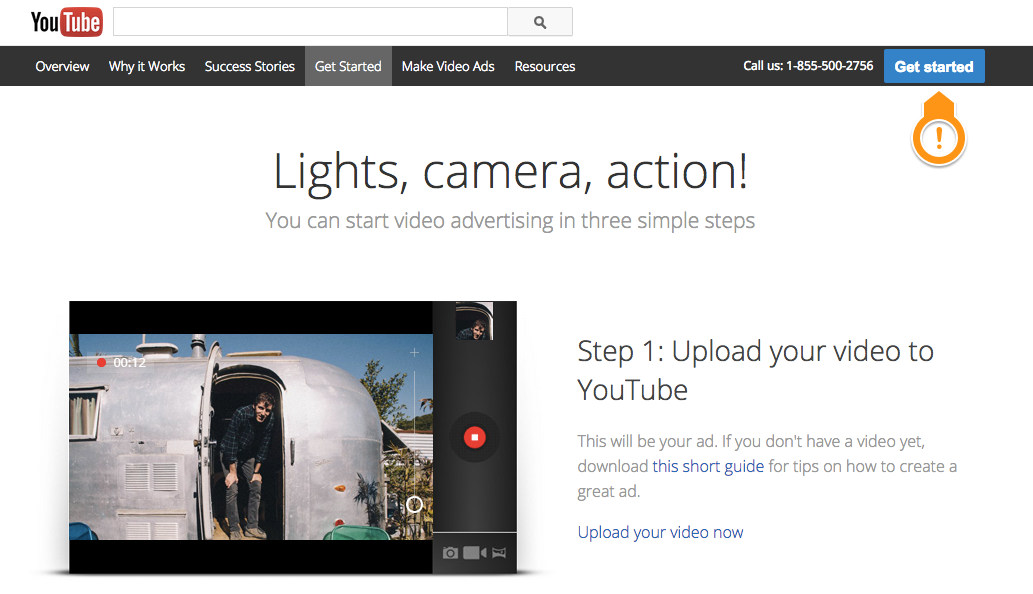 You'll be taken to the campaign creation page and you'll be asked to select your video. Just copy and paste the URL for your video that you uploaded in step 5.
Then you're going to be shown some forms for ad text and headlines. Again, make sure your headlines are solid!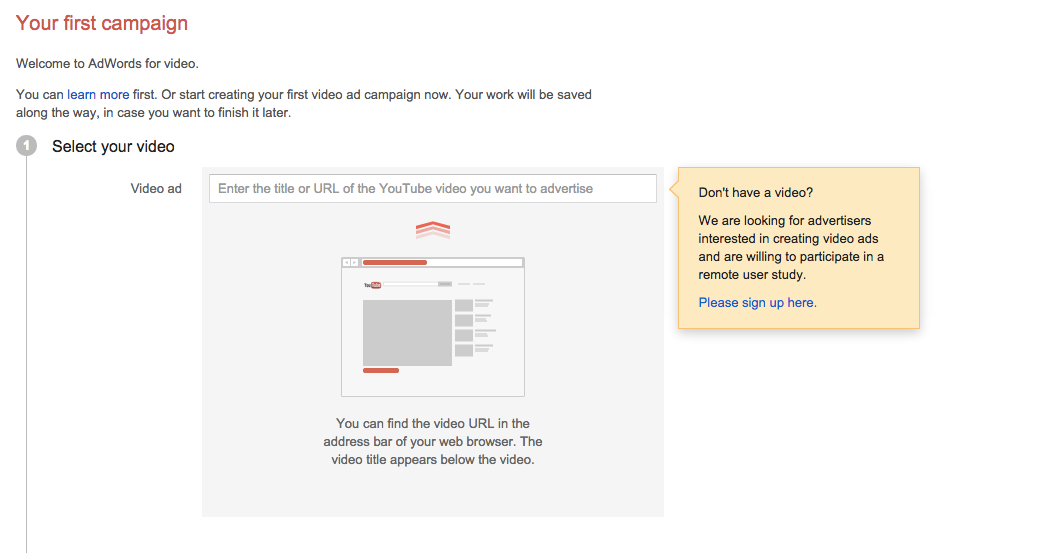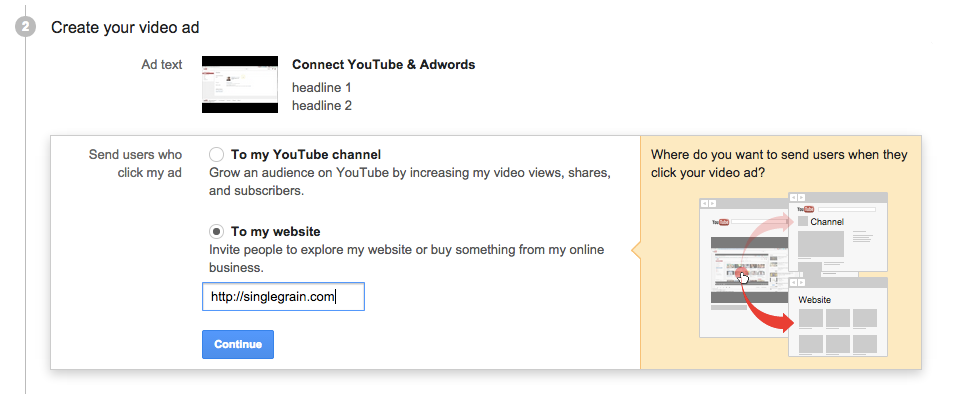 Here I used the Single Grain homepage as the landing page for the ad.

DON'T DO THIS.
Where are you supposed to link it to? Your landing page that you made in step two.
Then you have to decide how much you want to spend. The important thing here is to understand how to bid competitively for the type of ads you care most about.

This last part is where things get interesting because you can get extremely specific with who you want to show your ad to:
Age
Gender
Locations
User Interests
Web activity
This part is easy if you've built out your ideal buyer persona.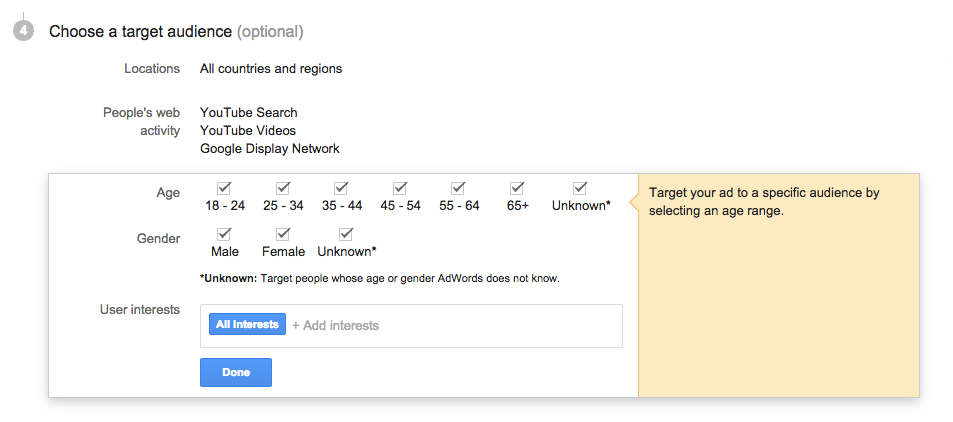 Targeting is the most important part of the advertising campaign. If your targeting isn't set up correctly and tailored for your business and product, you're going to end up wasting precious dollars by showing your ad to people who don't care.
So how do you ensure your ad is seen by the folks you want to see it?
These would be people who potentially match the image of your potential buyer. Similar to the Google Display Network, you can target your video ads to viewers depending on their interests, keywords, topics, demographics, placements, etc. YouTube for attracting a wide variety of customers to your brand and company. Don't be afraid of exploring it in detail to reach the right audience for your business.
It's important to note that you don't want to narrow down your audience too much. Try to strike a balance with your targeting: find a niche audience but make sure that the audience isn't too small.
You can also create your YouTube video advertising campaign through the Google Adwords Video Campaign manager.
[su_note]Free Bonus Download: Get a list of 10 insanely actionable first steps to running a successful YouTube ad campaign! Click here to download it free.[/su_note]
7. Set Up a Retargeting Campaign
Retargeting is extremely powerful in closing your customer because you can target viewers who saw or clicked on your ad but didn't convert.
These are the individuals who've demonstrated some interest in your offer but need some extra coaxing to commit. To set up this type of campaign, you need to put together a special target market in the shared library. 

For an in-depth explanation of creating a retargeting campaign, read Neil Patel's article on how to close customers with retargeting.
8. Add a Call-to-Action Overlay to Your Video
A call-to-action overlay is exactly what it sounds like: it's the small banner that appears at the bottom of videos and another opportunity for you to drive an action for the viewer.
What's great about it? It's free. Free isn't always equated with quality, but in this case it's a free opportunity to get a conversion. Use it!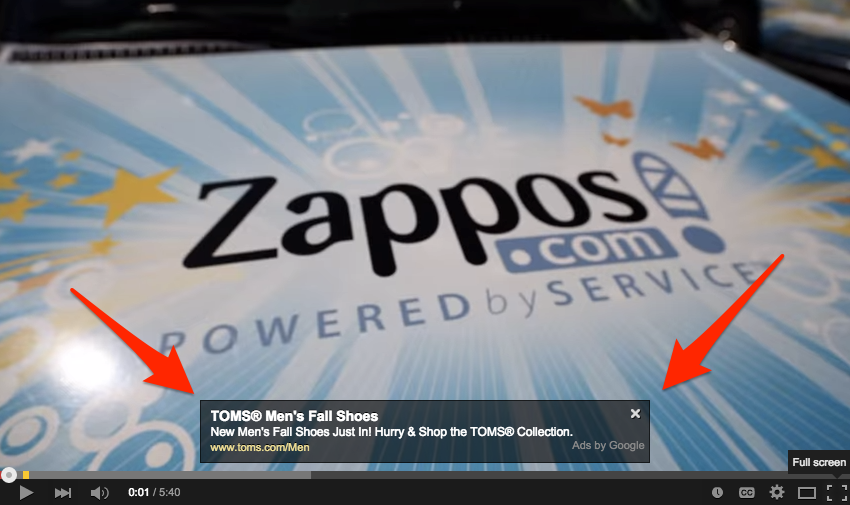 The call-to-action overlay is easy to set up, but just make sure your CTA is powerful and takes the viewer to a relevant landing page.
9. Measuring Success and Optimizing
Ultimately, you want your YouTube ad to help you achieve the goal you defined in step one. Whether it be gathering emails, selling a product or brand awareness, you have to track your ad's performance and make sure you're not dumping your money down the drain.
Don't set your ad and forget about it. Visit your Adwords account daily to review your ad performance and make changes as necessary.
For example, if certain viewers are seeing the ad too often, the "Frequency Capping" option enables you to decide how many people your ad is shown to one viewer and can help your campaign to stay focused on new viewers within your target market. Ad rotation is another aspect to consider.  You may realize your not showing you ad enough and need "Accelerated Delivery" or that you're showing it far too often.
You want to get the biggest return on your advertisement and that means optimizing its performance.

While you check on your campaign performance, also track your online ad ROI. It may seem like you're getting great returns from the numbers in front of you, but you might be in for a rude awakening when you realize that you're somehow losing money.
By tracking your ROI, you'll avoid that nightmare.
Conclusion
Those were the nine simple steps to creating a YouTube video advertising campaign. While you most likely won't be able to get your campaign up and running in one day, it doesn't mean you shouldn't get started.
By following the steps above, you can easily start advertising on YouTube and catalyze the growth of your business.
What's stopping you from running YouTube ads?
More resources for creating video ads:
Image sources: Pixabay, MarketingCharts.com, YouTube, Hubspot, Nicholas Gallucci, Growth Everywhere